The Strain: Season 1
(2014)
SEASON: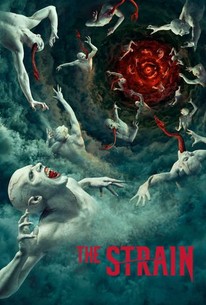 TOMATOMETER
AUDIENCE SCORE
Critic Consensus: The Strain makes the most of its familiar themes through an effective mix of supernatural thrills and B-movie gore -- though it may not appeal to everyone.
The Strain: Season 1 Photos
Tv Season Info
In Season 1 of this dramatic horror series, a strange virus seemingly kills all passengers and crew on an inbound jet to JFK International Airport. Upon investigating, Drs. Ephraim Goodweather (Corey Stoll), Nora Martinez (Mía Maestro) and the CDC Canary team are shocked to find four passengers alive, though still infected, causing the CDC team to fear an Ebola-like plague. Despite Ephraim's objections, no quarantines are issued. However, circumstances become dire when it's discovered the virus transforms its victims into vampires. While fighting to stop the spread of the virus, Ephraim, Nora and their team face betrayal and murder, which jeopardize their efforts and the livelihood of all New York City residents.
News & Interviews for The Strain: Season 1
Audience Reviews for The Strain: Season 1
As a reader of this trilogy of books I was surprised to see how this would be adapted. And surprisingly, I wasn't surprised. Season 1 follows very closely the first book and that's not necessarily a good thing. The first iteration is repetitive to a fault, dangles on the same threads for way too long and the dialogues are not sharp or intriguing enough. Same goes on with the show that either has great episodes when maddening vampire rampages are going on and just plain dull and cheesy when it tries character development. Books 2 and 3 are far more action packed, brutal and unforgiving so I'm still gonna give a shot to S02 because if done right, there's gonna be a lot of interesting entertainment value to be had. As long as it doesn't go to stretch-it-forever narrative formats like The Walking Dead... just please don't.
A few years ago I thought this sounded good and started reading the first book. It's very long, and actually a trilogy, but like all books I start, I didn't finish it. So seeing it was now a show I thought "sweet! don't have to read it" "The Strain" is a new vampire show created by Guillermo Del Toro. A plane full of passangers is found and everyone on board, but four people, are dead. But something very strange and eerie is going on. The first episode is pretty good. The story is very original, and the cast is great. It's filled with a lot of people whose faces you'll recognize, but won't know their names. This could be a really good series(although it could really only go for a few seasons). The biggest thing I don't like about this, at least in the first episode, is the effects of the vampire. It's extremely cheesy and looks pretty low budget. Reminded me of the effects in "I Am Legend". I hope they get better, because if they did, this could be great! I'm at a point where I don't know if I'll finish "True Blood" because it's gotten so bad the last few seasons, and the first 2 episodes this year were horrible. So with that leaving this definitely fills the TV vampire void. Horror fans, or people wanting something new, check it out!
Anyone who keeps up with FX and all its dramatically chilling television shows have likely been the recent followers of Guillermo del Toro?s new series, The Strain. It is based off a horror novel by the same name, although the series will divulge from the novelization as it progresses into its green-lit second season. You need to have a substantial tolerance for camp and absurdness as you divulge yourself into the The Strain?yet as it takes off, it undoubtedly knows what it is getting you into. This is what makes The Strain so stimulatingly enjoyable to keep track of, whether watching on a weekly basis or binging multiple episodes at a time. It pulls you in with its intellect and originality that has been rarely seen in recent horror series. The Strain begins with to a plane?a particular plane coming into the United States where a large ancient coffin is being imported with secretive, sinister plans. The plane is invaded by a force when in the air, presumably from the coffin, which freezes everyone on board to death and causes the CDC to enter the plane upon arrival and verify the deaths of every person on the plane?except for a handful of survivors. As the plot progresses, we find out all the passengers on the plane were actually not dead, but rather in a comatose state. These individuals are later revived by a virus that can be spread and makes them thirst for blood, while the body functions at a low mental capacity. Of course, the ?surviving passengers? struggle with this virus as well, as we low follow each one?s narrative and their loss of cognitive functioning, body parts, and the development of tentacles around the mouth along with an elongated tongue, specifically meant for sucking the blood out of humans through the neck or other areas of the body. That?s right, ladies and gentlemen. This is a biogenetic series, but it moves into the realm of vampirism with the precision of horror and glorious originality. The Strain follows various narratives, including a man working for the CDC willing to do anything to prove what is being done by the government is a cover-up, while following and killing vampires with a mysterious old man who believes he is destined to kill off the virus?or aliens, depending on your viewpoint. We also follow the mysterious alien-like creatures that look entirely human but give off inhuman expressions. They are, in a manner, the keepers of the vampires, and those the vampires imitate when they go out in public. As characters interlope with other characters, we learn that their importance lies in how they eventually relate to the main vampire himself?imported in the coffin months before with vicious plans for the human race. All hell breaks looks when the previously comatose demonic vampires from the plane begin to emerge and return to their loved ones as they become more and more ill. It is important to note the series primarily follows the investigator and an old man and the vampires themselves, making it a gorily disgusting experience. I must say, it makes the show that much more enjoyable. But that?s just my taste. There are loads of events to expect and suspect for the final two episodes of The Strain and fans like myself are on the edge of our seats, largely due to how insanely psychotic these past few episodes have been. One can only hope The Strain goes off with a bang, because it is certainly leading us through a brutally dark passage.
Discussion Forum
Discuss The Strain on our TV talk forum!