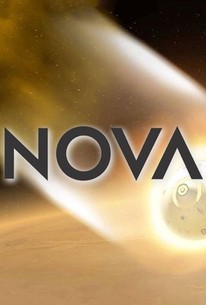 Critic Consensus: No consensus yet.
Series Info
PBS's premier science-documentary series, which has won six Peabody Awards and more than 20 Emmys (four in 2002 alone) since its 1974 debut. `Nova' clearly, and often engagingly, `demystifies' a vast range of science, technology and history topics---past and present---and doesn't neglect the human aspect of the story. Its many memorable shows include 1983's `The Miracle of Life,' about the conception and development of a fetus (which was remade in 2001); and 2002's `Why the Towers Fell.'
Series Details
| | |
| --- | --- |
| TV Network: | PBS |
| Premiere Date: | Mar 3, 1974 |
| Genre: | Documentary |
| Executive Producers: | Paula Apsell, John Angier, Paula S. Aspell, John Bredar, Samuel Fine, David Dugan, Andrew Cohen, Richard Hutton, Steven Engel, André Barro, Richard Klein, Chris Hilton, Michael Rosenfeld, Bernard Vaillot, Paul Crompton, Keiko Hagihara Bang, Andrew Cohen, Andrew Thompson, Norman Stephens, Kirk Wolfinger, Howard Swartz, Julia Cort, Michael Barnes, Stuart Carter, Robin Brightwell, Walter Sucher, Christine Le Goff, Rolf Schlenker, Carlo Massarella, John B. Bredar, Yves Jeanneau, Hélène Coldefy, Robert MacIver, Linda Harrar, Matthew Barrett, Chris Schmidt, Ben Ulm, Kathy Hale, David Elisco, Bo G. Erikson, Brian Donegan, Robert Maclver, Michael Allder, Ann Derry, Richard Sattin, Jeremy Dear, Simon Andrae, Mike Beckham, Daryl Talbot, Tug Yourgrau, Randi Triant, Oliver Chris, Robert Maclever, Daniel Korn, Lawrie Mifflin, Simon Welfare, Malcolm Clark, Wolfgang Buck, Janet Lee, Julian Ware, Jared Lipworth, Ian Herring, Simon Berthon, Bryn Higgins, Alan Yentob, Rudolf Klingohr, Tom Brisley, Joel Olicker, Danny Tipping, Stephen Braun, Ron Devillier, Clare Duggan, Richard Reisz, John Smithson, Anne Tyerman, Walter Köhler, Rob Hartel, Andrew Cohen, Geoff Kempin, Timothy [wr] Smith, Eamon Hardy, Anthony Cicatiello, John Angler, Terry Shand |
Quick Links
Full Cast
Related News & Interviews
Pictures
Discussion Forum
Discuss NOVA on our TV talk forum!