Game of Thrones: Season 4
(2014)
SEASON: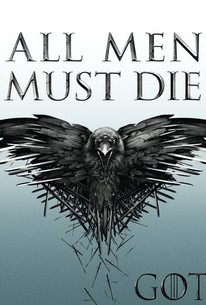 TOMATOMETER
AUDIENCE SCORE
Critic Consensus: Game of Thrones continues to be one of the best shows on TV, combining meticulously-plotted character arcs with the spectacular design of the Seven Kingdoms.
Game of Thrones: Season 4 Videos
Game of Thrones: Season 4 Photos
Tv Season Info
Season 4 of HBO's monster hit finds the status quo returning to King's Landing as Joffrey (Jack Gleeson) prepares to marry Margaery (Natalie Dormer), though it may be upset by the hot-blooded Oberyn Martell (Pedro Pascal), a royal-wedding guest who's not shy about wanting revenge on the Lannisters. Elsewhere in the Seven Kingdoms, Jon Snow (Kit Harington) tries to warn the Night's Watch that an invasion by a massive wildling army is imminent; the Hound (Rory McCann) wanders the countryside with Arya (Maisie Williams), hoping to cash in on keeping a Stark alive; Bran (Isaac Hempstead-Wright) follows his visions of the Three-Eyed Raven; and Tyrion (Peter Dinklage) finds the deck stacked against him in a trial for the ages. Meanwhile, across the Narrow Sea, Daenerys (Emilia Clarke) makes it her mission to free slave populations from their masters, but finds her growing dragons difficult to control.
News & Interviews for Game of Thrones: Season 4
Audience Reviews for Game of Thrones: Season 4
½
Game of Thrones has been one of HBO's most highly watched and critically acclaimed series since its premiere in 2011, with its fourth season just having begun a few weeks ago. Fans that watch the show religiously, myself included, will always find a way to bring the series into a conversation, particularly when attempting to get non-viewers to watch the show. If you're a non-viewer and haven't been in solitary confinement for the past four years, chances are you've encountered your fair share crazed fans raving about the brilliance of the series. It is with good reason that Game of Thrones has become a mainstream icon in recent years, because truly, there is nothing on television like it. The series follows a number of corrupt political figures that rule over the Seven Kingdoms of Westeros, a fictional continent occupied by a number of "houses"—in more simplistic terms, families distinguished by their last name and a specific sigil, such as a wolf or a lion. From its gruesomely shocking climax in season one, it becomes apparent that Game of Thrones is not playing by the rules. Every consecutive season of the series examines the corruptions, perversions, and cunning acts of deceit that power ensues, especially to those willing to commit the darkest and most murderous acts to attain it. One of the most original aspects of Game of Thrones is its beautifully stylish ambiance and costume design. Because it is a fantasy tale, akin to that of Lord of the Rings, the setting and clothing are reminiscent of medieval times. Game of Thrones is uniquely stunning in its storytelling, filled with sorcery, demonic beings, supernatural abilities, and most grand of all, fire-breathing dragons. Despite its extraordinary originality, Game of Thrones is a darkly woeful series. Good does not always prevail, and fans have found themselves in utter disbelief watching their favorite characters slaughtered in the blink of an eye. No one is safe in Game of Thrones, making it both an exhilarating and anxiety-inducing watch. As of now, Game of Thrones is three episodes into its fourth season, and like every preceding season, it has failed to disappoint. Tensions are high as lies and murders ensue in the game of thrones—no pun intended—making for a largely entertaining and promising season. As stated by Cersei Lannister, one of the main characters of the series, "When you play the game of thrones, you win or you die. There is no middle ground." Indeed, the series has had its fair share of war and vengeance in the fight for power—themes that will undoubtedly continue as the show progresses. It may come as no surprise that Game of Thrones has been my favorite television series for the past four years and will likely continue to be in the years to come. Ultimately, Game of Thrones is gripping from the start to its most recent episode and is not a series to be missed. It is a political and mythological masterpiece filled with blood, sweat, and tears for its characters and fans alike—minus the blood for fans, I would hope.
another solid entry and was the last great season of the show. Season three was the best, but this is not far behind.
The story grows more dark and compelling as the series continues to expand in Game of Thrones Season 4. Vibrant action and riveting portrayals only carries the series' reputation as the best on television. 4/5
Discussion Forum
Discuss Game of Thrones on our TV talk forum!