Game of Thrones: Season 1
(2011)
SEASON: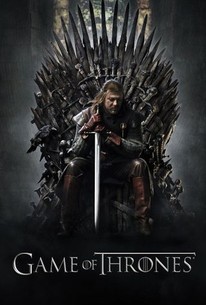 TOMATOMETER
AUDIENCE SCORE
Critic Consensus: Its intricate storytelling and dark themes may overwhelm some viewers, but Game of Thrones is a transportive, well-acted, smartly written drama even non-genre fans can appreciate.
Game of Thrones: Season 1 Videos
Game of Thrones: Season 1 Photos
Tv Season Info
Get in the 'Game'! Experience the first season of this visionary HBO series set in a mythical world whose inhabitants vie for control of the Iron Throne. But in a land where seasons can last a lifetime, winter is coming...and an ancient evil has awakened.
News & Interviews for Game of Thrones: Season 1
Audience Reviews for Game of Thrones: Season 1
½
Five years later, revisiting where it all started is strange. In a way, it seems like yesterday when, in 2011, I sat down to watch "Winter Is Coming". Every year since has dominated fans with when the new season will start. In retrospect, the first season of Game of Thrones is like a wine that is yet to be fine wine. This is one of the most realistic fantasies in terms of storytelling and making a fictional world seem real. Unlike most fantasies where you know the protagonist will pull through, Thrones has at least five major protagonists in Season 1 and nobody is safe. Anyone could die at any moment as it is in real war, although the Seven Kingdoms and the Baratheon Dynasty are ruling in peace at the start. What flaws Season 1 has is mostly in pacing. Yes, the first half of the season can come off as slow, I will admit that. You wonder how Eddard Stark will fulfill his role as the Hand of the King, what threat really has The Night's Watch in controlled turmoil, and how Viserys and Daenerys Targaryen can possibly hope to reclaim Westeros and restore House Targaryen when the Usurper rules in relative peace. However, this peace it thrown out the window, never to fully return when a poorly judged suspect captured for an attempted Stark murder sets the Westerlands and the Riverlands at each-others throats, and a rash, poorly thought out coup leads to total and irreversible war due to an execution which should never have been. Game of Thrones Season 1 is in truth a mixed blessing. Yes, it doesn't really hold up well in terms of pacing compared to the rest of the series, and yes the first six episodes are slow. But a redemption does come in episode 7 onwards when a lot of the Game of Thrones traditional qualities the show possesses blossom into formation as the Iron Throne becomes highly sought after. If one has even a casual liking for fantasy and can sit through the first seven episodes without getting entirely bored, this show will suit you well. A true and faithful adaption of A Song Of Ice And Fire.
Watching this again, not for the new season. The first season is still my favourite season, and Bean makes for the most interesting character in the series. Strong female characters and story arcs are laid here.
This adaptation of George R.R. Martin's mythical tale is grand and mystic. Even though those who do not follow the eerie and fantastical theme may not catch on, Game of Thrones Season 1 has enough violence, drama, exploitation and splendor to surprise audiences. 4/5
Discussion Forum
Discuss Game of Thrones on our TV talk forum!