Fear the Walking Dead: Season 1
(2015)
SEASON: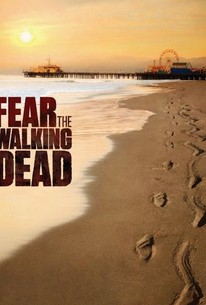 TOMATOMETER
AUDIENCE SCORE
Critic Consensus: Fear the Walking Dead recycles elements of its predecessor, but it's still moody and engrossing enough to compete with the original.
Fear the Walking Dead: Season 1 Photos
Tv Season Info
The beginning of the zombie apocalypse depicted in "The Walking Dead" is explored in this spin-off series. Kim Dickens, Cliff Curtis, Frank Dillane and Alycia Debnam-Carey star.
News & Interviews for Fear the Walking Dead: Season 1
Audience Reviews for Fear the Walking Dead: Season 1
½
Spin-offs are always a risky move for any studio, especially for television shows, as it does not ride on whether or not you have seen a few films from the past, but an entire five season show that preceded it. "Fear the Walking Dead" benefits from a loyal fanbase whom will watch anything with the title "The Walking Dead" on it. Being in the age of television, I find myself watching more and more shows, as the stories just seem to be more fleshed out on the smaller screen these days. I have been a fan of "The Walking Dead" since the beginning and while it has it's ups and downs (admittedly), I still love the characters. When this spinoff show was announced, many thoughts went through my mind. Will it tie into the main show? Will it have interesting characters? Will it delve more into the reasoning behind the outbreak? While only having six episodes (like the first season of "The Walking Dead"), it is hard to engage audiences in an entirely new story that feels very familiar; However, I think this is a very solid season. Following the Clark family at the very beginning of the outbreak, even though it is not explained, viewers get to see a little more of what was happening when Rick was in his coma in season one of "The Walking Dead," and that aspect sold me from the beginning. The issue that also accompanies that is the fact that it goes through that fairly quickly and by the end of the season it seems to be becoming just another version of the show we already watch. That aspect is worrisome, especially now that AMC has green-lit an entire 16 episode second season. As always, I have faith in AMC and I trust that they know what they are doing for their audience. Cliff Curtis and Kim Dickens are great as the two parents and their kids, played by Frank Dillane and Alycia Debnam-Carey, are very believable in their roles as brother and sister. In a more personal story, Nick (Dillane), suffers from an illness in which he needs constant medical attention for and that makes the rest of the group suffer, especially if they need to risk their lives for him to get more medicine. These aspects will all be coming into play in the future when the outbreak begins to further spread through their city. To add to this, at first I was thinking these characters could eventually meet up with the original cast and they could help in keeping him in good health down the line, but the distances between both shows seems too great for anything like this to EVER happen. To wrap up, this show, although only six episodes so far, has my attention and I will continue to watch as long as it keeps doing so. Is it as good as "The Walking Dead?" That question is impossible to answer at this point, but after the conclusion, there can only be interesting things to come. This season has a great final episode, and even though some may find the finale slightly anti-climactic, it sets up a larger scale, which "The Walking Dead" seems to have a bit of trouble with. Here to hoping the second season is even better. Would I say this is a great show and that you have to go out and watch it right away? No, but I admire what the writers are doing here and I have enjoyed it so far. "Fear the Walking Dead" has some pacing problems like it's predecessor, but it is as good as it can be so far in my opinion. Definitely worth checking out if you are a fan of this genre.
The spin-off is just as bad as the original show, I blame most of it on the casting and the storyline, please don't watch it.
Discussion Forum
Discuss Fear the Walking Dead on our TV talk forum!