Bosch: Season 1
(2014-2015)
SEASON: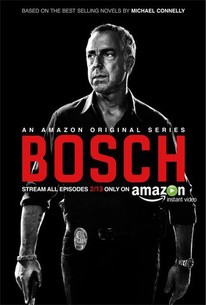 TOMATOMETER
AUDIENCE SCORE
Critic Consensus: An uneven boilerplate police drama is sharpened by gritty atmosphere, solid acting, and some rousing, suspenseful turns.
Tv Season Info
In this police drama, relentless Los Angeles homicide detective Harry Bosch (Titus Welliver) pursues the killer of a 13-year-old boy while standing trial himself on murder charges. Jamie Hector, Amy Aquino, Lance Reddick and Annie Wersching also star.
News & Interviews for Bosch: Season 1
Audience Reviews for Bosch: Season 1
The best movies and tv shows come from books, and a series based off a series is as good as it gets! Michael Connelly has already published fifteen books about Detective Harry Bosch, meaning there is a ton of material and angles to be used, deep background and personalities on all the characters, and some amazing stories to tell! Harry Bosch is a L.A. homicide detective, a special forces veteran of the Iraq war, and a man who takes each case personally. Bosch is the best detective on the force and gets the biggest cases. He goes into extreme detail on every case and rules nothing out. However, his personal involvement in each case leads him to make rash decisions that often leave him under a microscope. Titus Welliver stars as Bosch, and I never liked him as an actor. It's not that he isn't talented, it's the fact that he's always playing the bad guy, a role he just doesn't fit. Bosch however is the perfect fit for him, as he fits the role like a glove. His previous experience playing the bad guy, helps him to mask emotion and be the toughest cop in the world when he needs to be. When I watch him I have the feeling that everything in his passed has lead up to this, a career defining role. Welliver is paired with a couple of veterans from the hit HBO show, The Wire. Jamie Hector and Lance Reddick aren't only award winning actors, but their experience comes in the same vein of the genre as Bosch. After six years on The Wire, they are able to include their own spin on things and correct passed mistakes from the previous show, making for an incredible dynamic. The final angle that makes this show as good as it is, is Harry's family and childhood. At it's core, this is just another cop show, but what makes it as good as it is, is the story of Harry Bosch's life. Knowing what we know and seeing the extraordinary things he is able to accomplish, with so much going against him, really makes for one compelling story. Bosch is a cop show, but it's one that is written by an award winning novelist, produced by decades long veterans of the genre, and features a cast of award winners, that are as good as it gets. The casting for this show is terrific and the writing is phenomenal. If you love a good mystery and being part of the investigation every step of the way, you'll love Bosch. Often times these steaming shows aren't great, a lot of them are cancelled or rejected network shows, lacking in many ways. Bosch however isn't in that category, as it is the signature show of Amazon Prime and something that makes the whole cost of subscribing worthwhile.
Discussion Forum
Discuss Bosch on our TV talk forum!