Battlestar Galactica: Season 3
(2006-2007)
SEASON: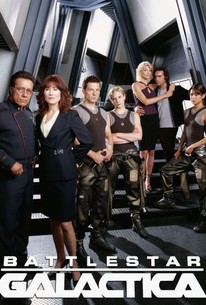 TOMATOMETER
AUDIENCE SCORE
Critic Consensus: Dark, charming and unusually thoughtful, Battlestar Galactica's third season continues to improve on the show's most addictive elements.
Battlestar Galactica: Season 3 Photos
Tv Season Info
The space opera's third season picks up a short time after the Colonial fleet was forced to abandon the bulk of humanity on the harsh but habitable New Caprica as the Cylons descended upon the defenseless settlement. While the commanders of Galactica and Pegasus, Adm. William Adama (Edward James Olmos) and Cdr. Lee "Apollo" Adama (Jamie Bamber), clash over the admiral's plan to rescue those left behind, resistance guerrillas led by Col. Saul Tigh (Michael Hogan) use suicide bombers to strike back at the Cylon occupiers on New Caprica. The occupation produces heroes, traitors and hostages---the last best personified by Capt. Kara "Starbuck" Thrace (Katee Sackhoff), who becomes a Cylon's love interest. Captive Cylon Sharon (Grace Park) redeems herself when she agrees to help Adm. Adama rescue the citizens of New Caprica. While the rescue operation unfolds, defrocked president Gaius Baltar (James Callis) locates Sharon's Cylon-human baby and accepts an invitation from D'Anna (Lucy Lawless) to join the Cylons. The large-scale rescue proves successful, but the occupation leaves emotional scars on the survivors, particularly Starbuck and Tigh, who stir up dissent within the ranks. Adm. Adama endeavors to heal his crew with a boxing event that ends up being cathartic for Starbuck and Apollo. While trying to prove his worth to the Cylons, Baltar helps D'Anna probe the mythical "final five" humanoid Cylons---who have become lost to the rest of their race---an investigation that doesn't sit well with the Cylon Cavil (Dean Stockwell). A food shortage forces the Colonial fleet to traverse a dangerous passage to an algae planet, home to a mysterious temple that houses a veritable road map to Earth, which the Cylons also covet. The tragic loss of a troubled crewmate and a sensational trial onboard Galactica become game-changing milestones during the fleet's quest for Earth.
Audience Reviews for Battlestar Galactica: Season 3
Discussion Forum
Discuss Battlestar Galactica on our TV talk forum!