Battlestar Galactica: Season 2
(2005-2006)
SEASON: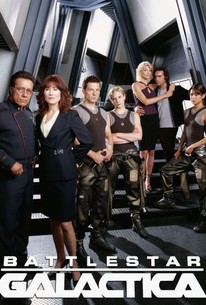 TOMATOMETER
AUDIENCE SCORE
Critic Consensus: In its second season, Battlestar Galatica doubles down on the series' high-minded themes and satisfyingly complex storylines.
Battlestar Galactica: Season 2 Photos
Tv Season Info
In the second season of Battlestar Galactica, the Cylons continue their relentless campaign of annihilation. Their Cylon human copies wreak havoc for our intrepid heroes who struggle with internal political struggles while battling the Cylons. Starbuck (Katee Sackhoff) and Helo (Tahmoh Penikett) get separated on Caprica when Starbuck goes on a dangerous mission for President Roslin (Mary McDonnell). Apollo (Jamie Bamber) leads a rescue mission to Kobol. A surviving battlestar is discovered and trouble ensues while people vie for command of the growing fleet and the ragtag band of survivors. Lucy Lawless ("Xena: The Warrier Princess") joins as D'Anna Biers and Dean Stockwell ("Quantum Leap") as John Cavil. Notable guest stars include Michelle Forbes ("Star Trek: The Next Generation" and "The Killing") and Dana Delaney ("China Beach" and "Body of Proof").
Audience Reviews for Battlestar Galactica: Season 2
½
Sci-Fi Channel's re-imagined Battlestar Galactica delivers an amazing second season that's extraordinarily compelling and incredibly daring. After surviving an assassination attempt Commander Adama struggles to reunite the fleet, which faces new threats when they cross paths with the Battlestar Pegasus, commanded by the war-mad Admiral Cain, and a divisive presidential election that will determine the future of the 12 Colonies; meanwhile Starbuck makes contact with a human resistance on Caprica and works on developing a rescue mission. The cast delivers some truly outstanding performances; especially Edward James Olmos and Grace Park. And several impressive guest stars make appearances, including Michelle Forbes, Lucy Lawless, Bill Duke, and Dean Stockwell. Additionally, the writers do a remarkable job at building multi-episode story arcs and at following ongoing plot threats. And the directors maintain a consistently gritty and intense look and feel. Taking on some of the most controversial political and social issues of the day, Battlestar Galactica's second season is a riveting and thought-provoking sci-fi drama.
Discussion Forum
Discuss Battlestar Galactica on our TV talk forum!