Battlestar Galactica: Season 1
(2005)
SEASON: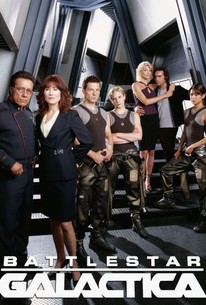 TOMATOMETER
AUDIENCE SCORE
Critic Consensus: A captivating combination of riveting political drama and science fiction fantasy make Battlestar Galactica must-see sci-fi.
Battlestar Galactica: Season 1 Photos
Tv Season Info
David Eick and Ronald D. Moore's dark reinvention of the cult sci-fi series picks up where the 2003 miniseries left off. An old battleship named Galactica leads a fleet of survivors away from their planets, which were decimated by a nuclear attack perpetrated by a race of machines known as Cylons. Galactica's senior officer, Cdr. William Adama (Edward James Olmos), and the newly sworn-in leader of the Twelve Colonies of Kobol, President Laura Roslin (Mary McDonnell), discover how relentless the Cylons can be when they briefly manage to track, harass and nearly exhaust the fleet. Worse, the Cylons have created copies of machines that appear human, some of which have infiltrated the fleet as unwary sleeper agents. Lt. Sharon "Boomer" Valerii (Grace Park) learns she is a Cylon after she sabotages Galactica's water supply. And another copy of Boomer uses Lt. Karl "Helo" Agathon (Tahmoh Penikett) as a guinea pig in an experiment the Cylons are conducting on the devastated Colonial world Caprica. A suicide bombing on Galactica forces the Colonial leadership to publicly divulge the existence of humanoid Cylons and the likelihood that some are operating within the fleet, fostering feelings of paranoia in an already stressed and depressed populace. Adama and Roslin are tasked with forging a new government and replenishing their supplies of water, fuel and fighter pilots, while they also try to keep hope alive during their search for the fabled lost colony Earth. Meanwhile, Dr. Gaius Baltar (James Callis) must cope with his role in the near annihilation of his people, his place in the new space-faring community, and the intrusions of an incorporeal entity---that only he can see---which has taken the form of the sixth humanoid Cylon model (Tricia Helfer) to guide the troubled genius.
Audience Reviews for Battlestar Galactica: Season 1
½
One of the best seasons of television ever produced, Season 1 of Battlestar Galactica presented a revolutionary new vision of science-fiction. The show follows the ragtag Colonial feet as they struggle to survive on the run from a race of synthetic robots called Cylons who destroyed their homeworlds and are intent on wiping out humanity. Starring Edward James Olmos, Mary McDonnell, Katee Sackhoff, James Callis, and Tricia Helfer, the cast is quite impressive and delivers some extraordinary performances. The storytelling is also incredibly well-done, constructing an over-arcing plot that's told over 13 episodes; exemplifying the serial format. Avoiding the common tropes of the genre, the series does a remarkable job at staying character centric. And, creator Ronald Moore does an excellent job setting up a mythology and at bringing a sense of realism to the show. Additionally, there's a significant spiritual aspect to the series and its exploration of humanity that's rather unique and compelling. Provocative and edgy, Season 1 of Battlestar Galactica delivers a powerful space opera that's full of action.
Discussion Forum
Discuss Battlestar Galactica on our TV talk forum!