SEASON: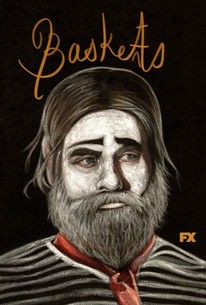 Tv Season Info
The second season of this FX original comedy series finds the titular Chip Baskets (Zach Galifianakis), a struggling clown, in the midst of an unraveling marriage and a failing career. As his chances of making it as a professional clown look increasingly unlikely, Chip persists in his shaky attempts at pursuing his dream and finding romance along the way. This season, Chip's mother, Christine (Louie Anderson), also embarks on her own journey as she seeks personal fulfillment and focuses on her own happiness instead of that of her children. Also starring Martha Kelly and Sabina Sciubba.
News & Interviews for Baskets: Season 2
Audience Reviews for Baskets: Season 2
FX's dark comedy Baskets continues to clown around in Season 2. After leaving home Chip Baskets joins a homeless group of street performers, but is forced to seek help from his mother when tragedy strikes. And while helping her son, Mrs. Baskets strikes up an unlikely friendship that leads to something more. This season Louie Anderson steps up and takes on a bigger role, and Zach Galifianakis stretches himself a bit, doing more switches between twin brothers Chip and Dale; further developing each of them. Yet the writing is still pretty weak, letting some of the sketches go on too long and leaving several story threads undeveloped. Still, Season 2 of Baskets, while it has problems, delivers some laughs and has some poignant things to say about family.
Discussion Forum
Discuss Baskets on our TV talk forum!