Zoom
(2016)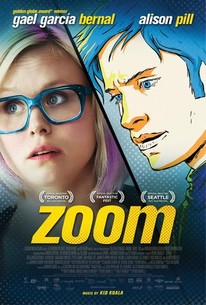 Movie Info
The film consists of three seemingly separate but ultimately interlinked storylines about a comic book artist, a novelist, and a film director. Each character lives in a separate world but authors a story about the life of another. The comic book artist, Emma, works by day at an artificial love doll factory, and is hoping to undergo a secret cosmetic procedure. Emma's comic tells the story of Edward, a cocky film director with a debilitating secret about his anatomy. The director, Edward, creates a film that features Michelle, an aspiring novelist who escapes to Brazil and abandons her former life as a model. Michelle, pens a novel that tells the tale of Emma, who works at an artificial love doll factory... And so it goes...
News & Interviews for Zoom
Audience Reviews for Zoom
½
"Inception" meets "The Dangerous Lives of Altar Boys" with a heaping helping of sex. This unrelenting, ADHD-edited "film" is an interesting visual experiment. Unfortunately, there's not much more to it. It critiques perceptions of beauty and authorial intent, but it hardly has anything new to say. As far as its satire goes, Pedro Morelli took every opportunity to make it as "meta" as possible but failed to make it more intellectually stimulating than "Last Action Hero". It is cartoony (maybe more-so in the live action segments) schlock that would appeal to fans of "Scott Pilgrim vs. the World" (read: teenagers), but it is too explicit for that demographic. I guess that qualifies it as "arthouse". As extremely inconsistent and juvenile as it is, "Zoom" still manages to be more entertaining than any of the films I mentioned in this review.
K Nife Churchkey
Super Reviewer
Zoom Quotes
There are no approved quotes yet for this movie.