Zombie Town
(2006)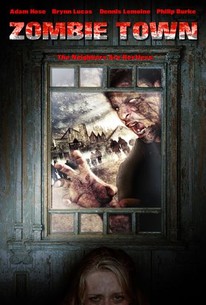 AUDIENCE SCORE
Critic Consensus: No consensus yet.
Movie Info
Swarms of strange parasites transform a small town's residents into flesh-eating zombies. Adam Hose, Brynn Lucas, Dennis Lemoine, Phil Burke. Directed by Damon Lemay.
Critic Reviews for Zombie Town
Audience Reviews for Zombie Town
½
Well in the first 5 Minutes of this film I form a very bad option, I thought ok here is another college actors type film as it had all the makings for just that, I figured I would drag myself through it so I could do a review and get on with it, then WHAM it somehow transformed in to a pretty comical zombie film. and the zombie killing and worm like creatures (Special Effects) were real good. But this is the type of film that you want to invite a few people over to see, but only after your blasted, as it would be more enjoyable. It's not in the class of the major zombie films like 28 Days or Weeks, or Dawn of the Dead, they are completely different, this is a comical zombie film and for that I give it 3 1/2 stars, I rented it, but if it appears on the self of a pawn shop I would add it to my collection.
Bruce Bruce
Super Reviewer
A fun little film that has the quality of an 80s B Flick rather than the 00s indie horror that it is. I can't say it veers away from the pitfalls of it's contemporaries but it makes them oddly work. The video/film quality also looks 80s like, which is kind of nice. The big problem I have with this film, and it really needs to stop, is the insertion of stupid as contemporay hard rock from a local band into big scenes. The music always sucks and it really takes away from the film. JUST FUCKING SCORE IT, I don't care how musically inept you are, it will sound better. Take John Carpenter for example, his simple score are incredible. I'm a credit watcher and I actually had to cut the volume and watch the credits silently just so I didn't have to hear the music. But if you don't have a problem with that, this will keep you entertained.
Patrick Dolan
Super Reviewer
½
i just saw this movie and got to say for the money they had to be working with this is a really cool zombie flick the acting wasnt top notch but you shouldnt be lookin for that here seems most of the money went into blood and gore so if thats your fav part of a zombie movie check this one out i recommend it
Zombie Town Quotes
There are no approved quotes yet for this movie.