Zombie Strippers
(2008)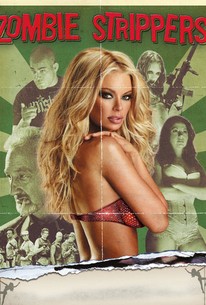 Movie Info
A top-secret government agency has unleashed a highly contagious chemo virus with the power to reanimate the dead, and when the bug begins to spread through Sartre, Nebraska's most popular gentleman's club, the sexy dancers get an insatiable appetite for human flesh. Rhino's is the underground strip club of choice for men in search of some small-town excitement, and when one of the dancers is infected with the deadly virus, she quickly becomes the most popular dancer around. Before long, the rest of the strippers are struggling with the decision whether to stay human and keep collecting meager tips, or allow themselves to become infected and start raking in the cash. Robert Englund, Jenna Jameson, and Roxy Saint star in a zombie film that aims to titillate and terrify at the same time.
News & Interviews for Zombie Strippers
Critic Reviews for Zombie Strippers
Audience Reviews for Zombie Strippers
½
Zombie Strippers is a poorly constructed horror film that had the potential of being so much better than what it turned out to be. This film could have been great. Instead it's an awful film with a stupid script and a very poor cast. I mean Jenna Jameson stars in this, and she was porn star for a decade, so what do you expect? Robert England who's legendary role in the Nightmare on Elm Street seri8es has made him a legend in the genre, but with this film it's hard to believe that he would make crap like this, but he has. This is a horrible film that lacks direction and flare. The film is just too cheesy with bad acting to really make it interesting. This could have been good, but the problem lies with its cast that really can't act and despite its interesting idea for a film, it fails to go anywhere and ends up being not interesting. Zombie Strippers is a poor horror film, one that just doesn't have anything memorable or really fun for that matter. This may be a good idea for a horror film, but the result is definitely not impressive. Some comedy horror films succeed at being good, cheesy fun. However, Zombie Strippers fails because it lacks anything truly memorable. As a horror comedy, this one fails. If the film had a better cast, a better, more3 developed script, then I think that this film might have been good. But as it stands this is a mess of a film, one that just doesn't deliver what it sets out in trying to do. With this film there are a lot of boundaries trying to be pushed, but not enough effective horror comedic bits being shown to the viewer. This film just doesn't work. If you want a great horror comedy with loads of gore, watch John Gulager's Feast instead.
½
With a plot that harks back to 'From Dusk Till Dawn' and even further back 'Vamp' this is the zombie version of that plot, plenty of sexy strippers that use the local scum for food as they keep their little game under wraps. Afew slight changes with the story envolving the military and escaping viruses (as usual) and a small 'Aliens' style rip at the start but its pretty much the same thing minus vampires. It is an enjoyable flick and I did like it despite my loathing of zombie flicks, the special effects and make up are suitably cheesy and sick but there are also some really nice make up jobs in there too. Plenty of exploding heads, blood and limbs being ripped off bodies hehe the best being a guys cock being eaten by Jenna and another stripper tearing a guys head in half, the bonus of course being its all being done by GORGEOUS strippers like Jenna Jameson, the main reason for my watching the film haha Not original but good seedy fun, I prefer 'Vamp' with Grace Jones though.
Phil Hubbs
Super Reviewer
Was not sure about this movie when i started watching it.The acting at the start was utter crap but after 15mins and the story move on to the main strip club the acting got better .Ok this movie is very silly and is tongue n cheek but its got enough gore for horror fans to be happy with.Yes there are alot of boobs floating around but hay it wouldn't be a strip club.....would it.Jenna Jameson acting was pretty good and hee comic timing was great,but hey there no Oscars in this movie....lol The man who stoll the show was Mr englund and had many oneliners. Over all not a bad movie and there lots of laughs along the way,
Brian De Guelle
Super Reviewer
Zombie Strippers Quotes
There are no approved quotes yet for this movie.