Zebraman
(2007)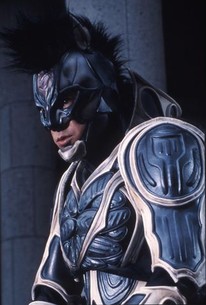 Movie Info
A nebbish father and schoolteacher finds the courage to face both his personal issues and a horde of invading aliens after assuming the guise of an unpopular television superhero in maverick Japanese director Takashi Miike's warmhearted comedy. Nice guy Shinichi (Sho Aikawa) just can't seem to find the respect he so readily deserves -- he's cuckolded at home, his son is constantly harassed by bullies, and his teenage daughter is always willing to sell her body to the highest bidder. In order to escape from his depressive reality, Shinichi frequently slips into his private room and dons his patchwork Zebraman costume. As a child Shinichi loved Zebraman, and despite the fact that only six episodes of the series ever aired, the nobility of the character has stuck with Shinichi well into adulthood. One night, while Shinichi is prowling the streets in his Zebraman costume, he comes across the frightful Crabman -- a perverted villain with a crab head and a dangerous pair of scissors. Already in character, Shinichi acts on his Zebraman instincts and effectively employs the Zebraman back kick. Later, Shinichi strikes up a friendship with handicapped transfer student and fellow Zebraman fan Asano, and begins to develop feelings for the boy's pretty and kindhearted mother. Suspecting that an alien takeover may be at hand when a horde of squishy extraterrestrial invaders begin possessing the locals and claiming the lives of young girls, the fledgling superhero leaps into action. While at first Shinichi bumbles in his attempts to keep the town safe from these strange beings, it doesn't take long for him to develop the confidence that will allow him to truly take on the persona of his childhood hero and fully realize his Zebraman powers.
News & Interviews for Zebraman
Critic Reviews for Zebraman
Audience Reviews for Zebraman
When amorphous green aliens invade Yokohama, a wimpy schoolteacher dons the costume of an obscure TV superhero to fight them. A bit too much drama and character development for an action/comedy, but there are enough of director Miike's trademark weird sequences, without his sometimes off-putting perversity, to make this (mostly) kid-friendly effort interesting.
Takashi Miike is a really hard director to place a genre on because he is all over the map with his films. Zebraman is one of those with no R-rated material, but it is just as out there as any other Miike movie. Well, not totally out there. It is fairly easy to make sense out of this, although it is without question, different. Heck, look at the title. Zebraman.
People tend to label this picture as a comedic superhero flick. This movie does have its share of laughs, but there is a serious tone behind it all. It is Miike's abstractness and out of the blue scenes that get the laughs, while at the same time bringing out a "what the h***?" look. I can't believe I'm saying this, but the lack of these types of scenes is a letdown. That leaves this 115 minute film a little bland and slow going.
In a film with "Power Ranger" type costumes, there is a place for CG. At times the CG is quite brilliant and at others it doesn't look all that great, but at the end of the day it doesn't really matter. Miike's little green men have this cute but sinister look going for them. They actually look pretty darn cool in my book.
Sho Aikawa dressing up as Zebraman is pretty hilarious to see. The attractive Kyoka Suzuki is a little weird in here, but so is everything else. She does look good as "Zebranurse." The rest of the supporting cast is OK.
Zebraman is a hard movie to pass up for Miike fans. Take my advice and just watch it. "Turn on the black and white."
You can't say no to a movie with Sho Aikawa in a superheroe outfit fighting aliens, tokosatsu-style. Some pacing issues keep this from being better, neverless, good ol fun. Zebra-nurse was hot.
Tsubaki Sanjuro
Super Reviewer
Zebraman Quotes
There are no approved quotes yet for this movie.