Zatôichi (The Blind Swordsman: Zatoichi)
(2003)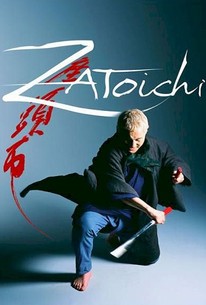 TOMATOMETER
AUDIENCE SCORE
Critic Consensus: Colorful, rich with action and wonderfully choreographed, Takeshi Kitano takes on the classic samurai character with his own brand of cinematic flair.
Zatôichi (The Blind Swordsman: Zatoichi) Photos
Movie Info
A sightless samurai in 19th-century Japan helps two sisters get revenge on the gang that murdered their parents. Cult director and star Takeshi Kitano's revival of the long-running Japanese series is a kinetic, highly stylized piece of filmmaking. Michiyo Ohgusu, Guadalcanal Taka, Daigoro Tachibana, Yuko Daike.
News & Interviews for Zatôichi (The Blind Swordsman: Zatoichi)
Critic Reviews for Zatôichi (The Blind Swordsman: Zatoichi)
Audience Reviews for Zatôichi (The Blind Swordsman: Zatoichi)
½
It is easier to appreciate this very fine samurai film due to its formal rigor (especially with such a great cinematography and score) than to enjoy it, since its narrative structure suffers from being a bit overplotted and has too many characters in constant fight for screen time.
Carlos Magalhães
Super Reviewer
By all means, I am no fan of the genre of the Samurai swordsman, but I can still expect more than slow story-telling, wooden acting and unfunny slapstick. It doesn't help that the swords, wounds and the gushing blood are computer animated and you see it. Sure, the film doesn't take itself too seriously, but it's still plain boring at times. Given the mostly positive reviews I expected a lot more but this did not work for me on any level. Maybe it's the Western world viewing expectations, maybe it's me. Maybe the film is just crap, though. I gave up after an hour.
½
'Beat' Takeshi Kitano made his name as a standup comedian before entering into cinema with a surprising array of serious and very violent roles. Here he tries to recapture the successful character who was a popular figure in Japanese film & television throughout the 1960's to the 1980's. Nineteenth-century blind nomad known as a gambler and masseur is also a lightning-fast master swordsman who stumbles into a town run by gangs and a powerful samurai. When he meets two geishas who are out to avenge their parents' murder, the fireworks begin. I've never seen the very successful series of films or television program of which this is based upon, so i'm not in a position to compare but it doesn't hinder the enjoyment of this visceral yet playful bloodfest. Kitano stages the whole yarn in a very theatrical style, with extremely exagerrated bloodletting, combined with an excellent soundtrack to fit with the rythmic moments and movements from the characters, like workers plowing the fields or rain pattering off an umbrella. It's beautifully shot and really captures the ingriguing Japanese culture with several stunning shots. As much as I admire the almost mystical and stoic tradition of the Japanese, I'm not the biggest Samurai fan, so the whole thing worked for me only to a certain degree. However, if your a fan of swordplay, then this will be right up your kimono. There's no denying the visual style throughout this serene yet kinetic bloodbath. It's like an eastern spaghetti western, but if your not interested in the genre then harikari may be a better option for you.
Mark Walker
Super Reviewer
Zatôichi (The Blind Swordsman: Zatoichi) Quotes
There are no approved quotes yet for this movie.