You're Next
(2013)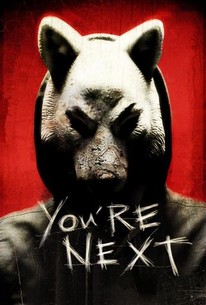 TOMATOMETER
AUDIENCE SCORE
Critic Consensus: You're Next's energetic and effective mix of brutal gore and pitch black humor will please horror buffs and beyond.
Movie Info
One of the smartest and most terrifying films in years, YOU'RE NEXT reinvents the genre by putting a fresh twist on home-invasion horror. When a gang of masked, ax-wielding murderers descend upon the Davison family reunion, the hapless victims seem trapped...until an unlikely guest of the family proves to be the most talented killer of all. (c) Lionsgate
News & Interviews for You're Next
Critic Reviews for You're Next
Audience Reviews for You're Next
A stupid slasher that tries to be modern with a heroine who can fight back and not only scream and run, but nothing can really make up for how most of the actors are awful, the characters a bunch of freaking morons and the plot so ridiculous and hard to buy.
Carlos Magalhães
Super Reviewer
½
When it comes to cult classic horror movies, films like The Evil Dead or The Thing are what come to mind. After its short theatrical release at the end of the summer in 2013, You're Next quickly became known as a modern-day cult classic horror film. After watching it for myself a few years later, I can confidently say that I see why film fans have admired this picture over the years, but that I whole-heartedly disagree with its acquired cult status. Having a very interesting story with quite a few twists and turns throughout, this film is definitely worth checking out at least once. That being said, here is why I believe the repeat value is slim to none, unless you are going to poke fun at it. The best thing this film has going for it, is easily the fact that it has an over-arching story that has a more than satisfying payoff in the third act. This is more of a suspense/slasher flick than an effective horror film. Without giving too much away, this film follows a family as they are invited over to their parents estate. Bringing along all of their newfound boyfriends or girlfriends, they enjoy a nice family dinner together, just before being terrorized by a few men in masks. Picking the family members off one by one, this film quickly becomes an exciting one. The biggest issue lingering over the entire film however; The acting is laughably bad. When you have a film that relies on its characters in order to tell a compelling story, you have to be able to cast performers that will give their all in times of peril. From the parents, to almost every one of the main characters, none of them deliver believable performances. They are just seeing their family members for the first time in a while. Their initial reaction to seeing them being killed should be shock and terror, but their screams and sobbing all feel forced. I found myself chuckling at the performances rather than feeling grief for the family. This film also suffers from a twist that works, followed by many confusing character actions. Erin, played very well by Sharni Vinson, is the character that audiences are supposed to latch onto the most. While her performance definitely saves this film from being terrible, her actions in the final act are very questionable, to say the least. After all is revealed and audience members are wondering how everything is going to wrap up, it quickly becomes a pretty generic conclusion with characters doing things that seem very far out of their comfort zone, in context with the rest of the film. This film keeps itself very confined throughout most of its duration and its eerie feel is always present, but it dives far too deep into generic slasher flick by the end. In the end, I can see why some people think of this as a great horror film, due to its unconventional and original twist, but the bottom line is that none of these actors seem to give a compelling enough performance to buy into what is happening. It definitely has a few creepy scenes, but for every creepy moment, it is followed up by a generic jump scare. Due to the hype surrounding this film, I was hoping for something much more compelling to be honest. You're Next tries very hard to be different, but ultimately gets caught up in the same old horror tropes. I enjoyed portions of this film, but it is not the cult classic that it has slowly been becoming over the years. This is just another average horror flick in the end.
Ineffectual, contrived, and badly staged and acted, "You're Next" is another in a long list of boring home invasion films that have emerged in recent years. The first twenty minutes of the film tries to set up the characters, but does a terrible job of it, and half the cast's characteristics are undermined by the horror genre setup. Many of the characters are just bodies to be murdered by the masked killers, the only gimmick the film really has. The acting in this is also horrible, especially by AJ Bowen who looks like he's in a student film. Sharni Vinson is the only one who looks like she's actually trying, and she's the only character who does anything throughout the film. Everyone else stands around mindlessly, complaining, when they should be trying to out maneuver the killers. The plot is also haphazard, as the background information is slight, and the motivation is clichéd. Most of the deaths aren't all that creative (including two identical deaths in a row) and the gore is needlessly unrealistic. There's also really strange glimpses of nudity, for no other reason than most horror films feature it. I found this to be a slightly frustrating, uneven, logic hating kind of film, that's not worth your time.
Spencer S.
Super Reviewer
You're Next Quotes
There are no approved quotes yet for this movie.