Young Frankenstein
(1974)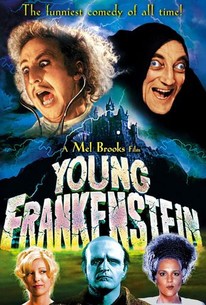 TOMATOMETER
AUDIENCE SCORE
Critic Consensus: Made with obvious affection for the original, Young Frankenstein is a riotously silly spoof featuring a fantastic performance by Gene Wilder.
Young Frankenstein Photos
Movie Info
In this spoof of Mary Shelley's gothic tale, the grandson of Victor Frankenstein, a neurosurgeon, has spent his life living down the legend of his grandfather, even changing the pronunciation of his name. When he discovers his grandfather's diary, he begins to feel differently, and returns to the family castle to satisfy his curiosity by replicating his ancestor's experiments. In the process, he creates one very unique monster.
News & Interviews for Young Frankenstein
Critic Reviews for Young Frankenstein
Audience Reviews for Young Frankenstein
The art of the spoof has been lost in recent years, or at least a fundamental understanding of what makes the greatest spoofs work at the most basic level. What makes them great can be summed up in one word: Love. It's strange to think about, but the best film spoofs are a built on an inherent love and understanding of what's being skewered. So it's no surprise in some ways that Young Frankenstein is Mel Brooks' greatest film. The amount of referential material in this film goes far beyond the knowledge of even some seasoned film geeks (there is a Frankenstein film that features a police inspector that has a wooden arm, and yes, he plays darts with Dr. Frankenstein). Even the equipment in this film's lab is taken from the Boris Karloff classic. Combine this reverence with one of Gene Wilder's greatest performances, jokes that absolutely hit their mark, and gorgeous atmosphere from black and white cinematography, and you have a comedy classic. One of the greatest of all time and highly recommended.
Jacob Ethington
Super Reviewer
Clever satire of old Hollywood horror films. Great over-the-top performances by Wilder and Kahn.
Christian C
Super Reviewer
Mel Brooks' Young Frankenstein is a fine horror comedy that remains a classic of the genre. This is one film that is very funny, with good acting and directing. The film is one of the most memorable films in the comedy horror genre. Mel Brooks delivers a great film that is very funny. The film obviously parodies Frankenstein, and the film does a great job at doing that. I very much enjoyed the film, and thought it was among Mel Brooks' best films. Young Frankenstein for me anyway plays out like a tribute to Frankenstein, by inducing the classic tale of horror with a good dose of comedy. The film works well, and is superbly well acted, and directed. The film boasts a memorable twist on the classic tale, and is among the best comedy horror flicks, albeit not a straight forward horror film. This film though will be appreciated by fans of horror as much as comedy film fans. This film is a near flawless comedy horror flick with great, memorable performances. Mel Brooks would later make another horror comedy with Dracula, but it wouldn't be as great a film as this. Young Frankenstein woks well as a parody and as a tribute to a classic horror monster. Overall a solidly crafted film with a great cast, and a good story. Young Frankenstein is in a class by itself.
Young Frankenstein Quotes
There are no approved quotes yet for this movie.