You Might Be the Killer
(2018)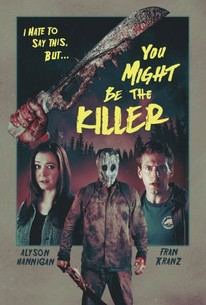 You Might Be the Killer Videos
You Might Be the Killer Photos
Movie Info
As Sam flees from a masked killer at camp, it slowly dawns on him that HE might be the killer. With the help of his film buff friend Chuck, Sam navigates through horror movie tropes to try and make it out of this plot alive.
Critic Reviews for You Might Be the Killer
Audience Reviews for You Might Be the Killer
½
The horror geek inside of me, honestly, hates writing these reviews for films that I should like but, ultimately, for one reason or another, don't. This happened as recently as October with films like Dead Shack and The Night Watchmen. Movies that have the necessary tone, a great cast that's game for everything the film throws at you and cleverness in its scripting that has something for even the most discerning horror geek. And, yet, somehow, the final product does not add up to something that I would actually feel comfortable calling good. If I'm being honest, I think this movie probably has a lot of the ingredients necessary to be something that I would just eat up wildly and rave about immensely. But, if I'm being honest, much like with Dead Shack and The Night Watchmen, I don't think I'm comfortable calling this a good movie, even if others do. Before I go on with this review, I should note that this actually based on a Twitter thread/exchange/story between two authors (actually named Sam and Chuck) that were, basically, Sam and Chuck's conversations in this movie. I suppose the easiest comparison points, in relation to this movie, is Cabin In The Woods (because of course it is) and The Final Girls. I think it's more comparable to the latter than the former. Both are obviously self-referential, as Sam calls his friend Chuck in order to help him figure out who the madman is that's killing counselors at the summer camp he works worth. Chuck, you see, is something of a horror expert and she helps Sam slowly come to the realization that he is, in fact, the killer and he's not actually one of the victims. There's actually a lot of potential with this concept because, Sam, the killer, is essentially running away from the survivors who are justified in their attempts at murdering him. But I just don't think the movie ever, truly, reaches its own potential. I think the biggest problem with the movie, in my opinion, is that it seems more concerned with touting its own subversiveness than actually making sure that they had a good movie that was able support the subversion of the tropes the film so openly uses as the basis of its entire story. The film is a very loving spoof and you can sense the admiration and respect the filmmakers and screenwriters have for the movies that inspired them to write this, but I just don't think what is below the hood ends up amounting to much. Don't get me wrong, the movie is perfectly decent, but I feel that it really should have been much more than that. Like I said, the much is much more worried about being clever and subversive than actually making sure their movie is good. In between Sam and Chuck's conversations, when you see what actually happened and how Sam came into possession of the evil mask that drove him to murdering most of the other camp counselors. The thing about a movie like Cabin In The Woods or even Final Girls, which I did have issues with, is the fact that there's actually a story to support their subversion of genre tropes. In The Final Girls, the lead character reconnects with her deceased mother through a character she played in an 80s slasher. Cabin In The Woods is a meta-critique of the audience's need for sacrifice to be satisfied with a horror movie. There's a justification for why both of those films are presented in the way and style that they are. I don't think this movie, on the other hand, does a great job at justifying why it is the way it is. I don't think it even does a good job at it, honestly. If I felt it did a good job, this would have received a higher rating. I don't think people realize how important this actually is to a movie like this. You can't just be like this for the sake of it and expect it to fly, you need to sell me on why the film's story needed to be told in this way and this movie, quite frankly, does not succeed at that. And that really annoys me because, again, there's a lot here for me to like. I think The Strangers: Prey At Night, which could be seen as a subversion of slasher tropes, does a better job without being so openly comedic. Like I said, everything in between Sam and Chuck's conversations feels standard and like every horror flick you've ever seen and that's where the whole movie being based on a Twitter story told by two authors comes into play. Essentially, the main story beats between Sam and Chuck, in this movie, are ripped from the thread itself. The movie's main beats were laid out for the screenwriters, but they had to find something in between those conversations to fill in the time and, honestly, I don't think they came up with anything that was worthy of the concept. Maybe it's just me, but they didn't. And that's a shame, because Fran Kranz (who still looks like Seth Green and Bradley Cooper had a baby) is fantastic in this movie. I do think that he single-handedly drags the movie kicking and screaming to a decent story. His performance is so manic once he comes to the realization that there's an evil mask compelling him to put it on so it can go on and kill more people. He's incredibly entertaining in this movie and, again, the biggest part of why the movie is getting the rating that it is. The script is decent enough and there's some decent jokes in there but, honestly, I don't know how much of that is Fran Kranz elevating the material or the quality of the jokes itself. This movie makes me sad, because I didn't wanna have to come here and tell you that I didn't like this movie or that I didn't think it was good in spite of a great concept, I legitimately went into this movie wanting to like it. but that's what I'm doing right now. And it's not even that I'm not recommend it as, I'm certain, more people will enjoy this than those that don't. I'm just saying that, for me, this ended up being slightly disappointing. Fran Kranz gives a great performance here, but his efforts are, halfway, wasted on a movie that doesn't really do much in between of its bigger, self-referential moments. This is clearly a labor of love, and I don't mean to devalue that labor. but it didn't blow me away.
Jesse Ortega
Super Reviewer
You Might Be the Killer Quotes
There are no approved quotes yet for this movie.