Yi Yi
(2000)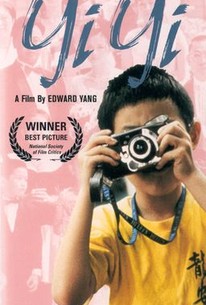 TOMATOMETER
AUDIENCE SCORE
Critic Consensus: In its depiction of one family, Yi Yi accurately and expertly captures the themes and details, as well as the beauty, of everyday life.
Movie Info
Master Taiwanese filmmaker Edward Yang directs this intelligent family drama about the regrets and malaise of middle age, which recalls his 1991 masterpiece A Brighter Summer Day both in scope and in depth of observation. The film focuses on N.J. (Wu Nien-jen, a noted writer-director in his own right) a partner in a computer firm who is married to Min-min (Elaine Jin) and has two kids, teenager Ting-ting (Kelly Lee) and young Yang-yang (Jonathan Chang). His company, though successful, demands constant innovation to stay afloat, which includes collaborating with renowned Japanese games designer Ota (Issey Ogata). The liaison work is assigned to N.J. in spite of the fact that work is the last thing on his mind. When Min-min's mother (Tang Ru-yun) suddenly falls into a coma, N.J., Min-min, and others in the family are forced to reevaluate their lives. Min-min visits a fortune teller, while N.J. is thrown into a further emotional tailspin when he runs into his first love, Sherry (Ko Su-yun), who is happily married to a rich Chinese-American. Meanwhile, Min-min's ne'er-do-well brother marries the pregnant Hsiao Yen (Hsiao Shu-shen) over the objections of his acerbic ex-girlfriend Yun-Yun (Tseng Hsin-yi) while Ting-ting starts going out with Fatty (Yu-pang Chang), the boyfriend of her high-strung best friend Li-li (Adrian Lin). The film comes to an emotional head when N.J. goes to Japan to seal a deal with Ota, while both business and family matters completely fall apart in Taiwan. This film was awarded the prestigious Golden Palm for best direction at the 2000 Cannes Film Festival.
Audience Reviews for Yi Yi
Cute and inspiring without being cloying. It doesn't feel artificial and therefore can serve as an example to Hollywood on how to make a truly moving picture.
John Ballantine
Super Reviewer
Much much duller than I had anticipated but strangely, thoroughly watchable. Everything hits you later, in your bed, hours after you finish the film. Its premise is extremely simple but it's a very portrait of a family, their neighbors, and their loves.
Jennifer Xu
Super Reviewer
Why are we afraid of the first time? Every day in life is a first time. Every morning is new. We never live the same day twice. We're never afraid of getting up every morning. Why?
I'm still puzzling over the authenticity of this line from Mr. Ota. I'm not altogether sure this movie supports his assertion.
In other words, I'm thinking his statement may be ironic given the way this film goes.
Aside from a kind of surprising murder that I'm also still puzzling over, this is a very gentle and fairly objective examination of the very partially understood nature of the lives we live. The difference between what we can do to direct our lives and the way that our lives become directed by forces outside ourselves and often beyond our control is examined in the lives of many characters in this film. Perhaps even more important is the idea that we cannot understand our lives fully, no matter how hard we may try to do so. The clock is ticking loudly here, and it is impossible to slow down our being swept up in the forward movement of time. For most of us, we do the best we can, with what little time we have, and with what little we know or understand of our lives, and we hope for the best.
Lanning : )
Super Reviewer
Yi Yi Quotes
There are no approved quotes yet for this movie.