The Yes Men
(2004)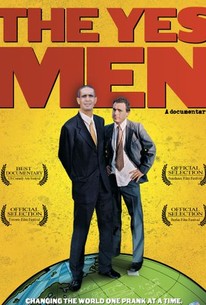 TOMATOMETER
AUDIENCE SCORE
Critic Consensus: Shining a spotlight on activists as unorthodox as they are entertaining, The Yes Men proves advocating for social change can be seriously funny.
Movie Info
A comedic documentary which follows The Yes Men, a small group of prankster activists, as they gain world-wide notoriety for impersonating the World Trade Organization on television and at business conferences around the world. The film begins when two members of The Yes Men, Andy and Mike, set up a website that mimics the World Trade Organization's--and it's mistaken for the real thing. They play along with the ruse and soon find themselves invited to important functions as WTO representatives. Delighted to represent the organization they politically oppose, Andy and Mike don thrift-store suits and set out to shock unwitting audiences with darkly comic satire that highlights the worst aspects of global free trade.
News & Interviews for The Yes Men
Critic Reviews for The Yes Men
Audience Reviews for The Yes Men
The audacity of what The Yes Men were able to pull off is the saving grace of this film; a documentary that has way too many talking head moments with people on the fringes of the project. The direction was rather slip-shod, as it appeared that moments of supposed humanity were interspersed into what would have been a rather tight narrative, and that said moments came across as flat and unnecessary. Pare this film down to the first meeting with the costume designer, then a brief meeting with the creative team in Paris, before the first expose in Finland, and the focus becomes so much tighter. I would recommend this film simply for the hilarious, and pointed satire of the WTO (that's world trade organization - and if you don't know what that is, then the film's point is already made, for it is the WTO, in large part, who dicate the policies that created the bank meltdown - that this film was done in 2003 shows how prescient the Yes Men were). It's amazing to watch how much leeway and credence is given to someone speaking rhetoric out their ass, simply because they have some kind (and in this case totally bogus) of credential.
paul sandberg
Super Reviewer
Two self proclaimed activists impersonating representatives of the World Trade Organisation challenge accepted capitalist thinking in an attempt to set the world to rights. Or rather two smug middle class white American men stage a series of weak skits and juvenile parodies, claiming it "makes people think about the problems of the Third World" but in fact seems to be more about attention seeking and self-aggrandizement. Amongst their "hilarious" parodies are a lecture including a "management suit" which is a gold lame bodysuit with an enormous protuding phallus and a video showing a pipeline transporting the excrement of the west to create shit burgers for the Third World. Ho-de-ho. The main reason I can see for their audience not realizing that they're joking is because they display the level of wit of a ten year old and are just plain unfunny. They bother to produce some of the disturbing facts and figures of world capitalism at the very, very end but the rest of the film seems to concern itself solely with how "dangerous" and "heroic" THEY are. Whatever you think of Michael Moore's politics, his approach is invariably wittier, more insightful, more informative and most of all far more entertaining than this frat-style publicity seeking.
Props to whomever wrote the summary for this and made it sound 100 times more interesting than it actually was. I have never seen pacing issues this bad in a documentary in my life, and the "payoffs" are horrible. Hope you like a ton of filler.
The Yes Men Quotes
There are no approved quotes yet for this movie.