Yellowbeard
(1983)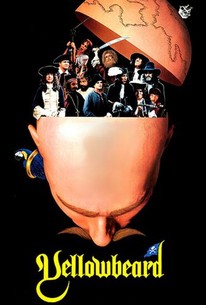 Movie Info
This colorful spoof of pirate movies had all the makings of a classic farce and yet sank straight to Davy Jones' locker at the box-office, for despite it's all-star international cast of famous comedians, and despite the fact that it was largely co-written by "Monty Python"-veteran Graham Chapman and former "Fringie" Peter Cook, the darned thing just wasn't funny. The sketches center around the core story of the dread pirate Yellowbeard's quest for a fabulous treasure, the map for which is tattooed on the head of his prissy son, who wants nothing to do with ships and pirate shenanigans. This was the final film of bug-eyed, beloved comedian Marty Feldman, who died of heart-failure before production finished.
Critic Reviews for Yellowbeard
Audience Reviews for Yellowbeard
½
When you overload a film with talent, it generally falls flat, and that is exactly what this movie does. It's not bad, but it's just not funny. All the different actors are doing their own thing, and they just can't find a way to fit together in a consistent comedy tone. The story isn't great either, but it could have been worse.
Pretty lame film with a sterling cast of legends most of which are sadly no longer with us, you could look at this as another 'Monty Python' type film along side others like 'Jabberwocky' and 'Time Bandits' but alas this film doesn't have much of the laughs and visual flair that those films do. The plot is your basic Treasure Island type thing but just totally crazy and loony hehe most of the jokes are prat falls and childish along with allot of sexual japes, again which are kinda dumb and childish. Unfortunately this was the last proper film for 'Python' Graham Chapman and also the last film for British comedian Marty Feldman, its a shame that the film is known for those two sad reasons and not much else, only for total fans really as there isn't much to recommend in this silly film, even the stellar cast can't save it.
Phil Hubbs
Super Reviewer
Take actors from Mel Brooks, Monty Python, and Cheech & Chong movies and you get this slightly funny mess. John Cleese who was actually in the movie said it was the worst script he had ever read and Marty Feldmon died during filming.
James Alvarez
Super Reviewer
Yellowbeard Quotes
There are no approved quotes yet for this movie.