Yattâman (Yatterman)
(2009)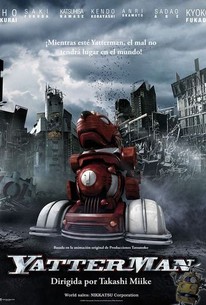 AUDIENCE SCORE
Critic Consensus: No consensus yet.
Movie Info
Based on the classic 70's anime series, this big-screen, live-action adaptation of Yatterman tells the story of Gan Takada, a boy with a knack for all things mechanical, and Ai Kaminari, a girl with a quick wit. When a serious bad guy discovers a sure-fire method for taking over the world, Gen and Ai find themselves on a mission to save the universe, with the help of many wild costumes and powerful, fighting robots. ~ Cammila Albertson, Rovi
Critic Reviews for Yattâman (Yatterman)
All Critics (3) | Top Critics (1) | Fresh (1) | Rotten (2)
This confection may be lurid, treacly overkill for the eyes, but the the story's innate good-versus-evil wholesomeness, not to mention its grating cutesiness, is constantly offset by outrageously inappropriate Miike touches and subversive humour.
May 25, 2012

I grinned like an "imbefool" all the way through.
April 1, 2009 | Rating: 3/5
Being imprisoned in someone else's nostalgia trip can be a mind-numbing living hell.
February 17, 2009 | Rating: 3/10
Audience Reviews for Yattâman (Yatterman)
One look at the name Takashi Miike would lead some people to believe this would be a violent and gruesome film, but they couldn't be more wrong. It's a live-action update of a 70s anime and it's bonkers. Miike handles the material as an almost parody of Tokusatsu tv shows. The film gives no explanation as to what is going on, and that's a lot of the fun. You are placed in a world that assumes you understand what is going on. The effects, costumes, and acting are all completely over the top and colourful, but you also get a lot of brilliant (if sometimes immature) humour and fantastic robot battles. Seeing the dance sequences randomly enter into things, and a main villain whose dream is to live a simple life with a family, makes it refreshing. If you're not hooked within the first few minutes, then give up. Those who do enjoy it will certainly want more.
Luke Baldock
Super Reviewer
½
This live-action film update of a 1970s anime series about a boy/girl duo who fight a trio of pantomime offcuts with the help of an aggravating robot and Yatterwoof, a giant mechanical hound-ship is imaginative, amazing, exciting, funny and kind of sexy. The actors are having fun with their roles and the effects (while frequently cartoony) go with the self-conscious storyline. We open to a scene of devastation, a huge teddy-bear robot is rampaging though Tokoyoko armed with a frying pan and cleaver. They are confronted by Yatterman and a fight ensues, which has people climbing out of what appears to be deep-fat fryers, fighting with giant spoons and forks versus someone armed with a a ball and cup, throwing cars at each other, kung-fu moves, more robots, a beautiful Japanese villainous dressed as a leather- clad dominatrix, electrocutions, slapstick, a soundtrack that sounds like a mixture of bad 80s pop and German power metal guitar, then followed by a battle between a robo-dog and the original teddy-bear shaped robot which is made from kitchen utensils, the losers make their escape on a bicycle that talks to them and throws them off by exploding the saddles as punishment... and that is just the the first 10 minutes. This is recommended for adults, not for children under 14.
Dean McKenna
Super Reviewer
½
Fun but uneven for the most part, not as clever as Yokai War, fans of the original show will surely enjoy this a lot more. There are jokes that just keep going and going, or just get lost in translation, but there are several moments of pure joy, including hot mecha-on-mecha interaction. Sho Sakurai is a bore as the lead, but the rest of the cast makes up for his complete lack of charisma. Kyoko Fukada is going to be my wife some day, ahem, where i was? Oh yeah, Miike is as usual a master with the visuals, but overall this could had the balance that something like Crows Zero had.
Tsubaki Sanjuro
Super Reviewer
Yattâman (Yatterman) Quotes
There are no approved quotes yet for this movie.