Yankee Doodle Dandy
(1942)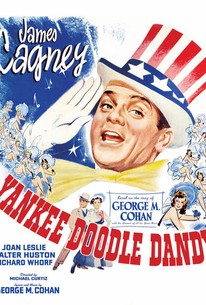 Yankee Doodle Dandy Photos
Movie Info
The life of the renowned musical composer, playwright, actor, dancer, and singer George M. Cohan.
Critic Reviews for Yankee Doodle Dandy
Audience Reviews for Yankee Doodle Dandy
½
Yankee Doodle Dandy is a cliche packed, guilty pleasure, made sublime by the galvanic performance of James Cagney as song and dance man George M. Cohan. Directed by the capable Michael Curtiz, who could apparently direct anything, it also has gorgeous B & W cinematography from the great James Wong Howe and wonderful supporting performances by some great Warner Brothers contract players like Walter Huston, S.Z. Sakall (Carl from Casablanca) and Cagney's sister Jeanne playing his movie sister. The main reason to see this is for the joyful musical numbers, in particular, the title song, Give My Regards to Broadway, and It's a Grand Ol' Flag. Cagney doesn't even try to sing but spits out the lyrics with bravado and hoofs so engagingly that you can't take your eyes off him. He's no Fred Astaire, but he has such a wonderful fluid style and such a compact, lithe athleticism that he's just as watchable. The overblown chorus numbers are crackling entertainment, but be warned that they are not even half of the film's running length, so you'd have to skip through your DVD menu to avoid the schmaltzy and often maudlin scenes, like the elder Cohan's deathbed scene, which I ate up for dinner, but are for old movie fans only. Cohan comes off as arrogant and self-absorbed, but Cagney infuses him with humanity and warmth, so we can see why his family, friends and business associates might put up with him. I have no idea how accurate YDD is to reality, apparently Cohan was a nasty fellow who tried to bust the actor's union and had a savage cruel streak. Not here. The drama such as it is, has all the essential show biz bio flick scenes: the early struggling years, the hero's comeuppance, huge success straining the personal relationships, and the decline when the hero is considered a relic of the past, culminating in a big unexpected comeback. The film is book ended by a visit when Cohan is summoned to the White House by Roosevelt, where he related his life story to the President, who seems to have a lot of time to listen (the two hour length of the movie) especially during WWII, where you'd think the man might have more pressing concerns. This is not at the top level of the great old musical bio flicks, but it's lots of fun. It's really not much without Cagney, and fortunately this film offers a heaping helping of him.
Josh Morris
Super Reviewer
½
This is a great musical. I love the old style musicals where the song and acting are separate. Sure, the song can tell a story, but this shows that the cast can dramatically act as well. It was a well done film all around with great music, acting, writing and inspiration. I had a lot of fun watching this one and if you like the old black and white films, this is one to watch.
½
The music was the only thing good about this film.
erika bruhns
Super Reviewer
Yankee Doodle Dandy Quotes
There are no approved quotes yet for this movie.