Wuthering Heights
(2012)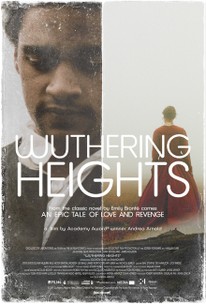 TOMATOMETER
AUDIENCE SCORE
Critic Consensus: Director Andrea Arnold's gritty, naturalistic re-imagining of the Emily Bronte classic stays true to the book's spirit while utilizing an unconventional approach to explore the romantic yearning at the heart of the story.
Movie Info
Andrea Arnold's Wuthering Heights is an excitingly fresh and distinct take on the classic novel by Emily Brontë. An epic love story that spans childhood well into the young adult years, the film follows Heathcliff, a boy taken in by a benevolent Yorkshire farmer, Earnshaw. Living in Earnshaw's home, Heathcliff develops a passionate relationship with the farmer's teenage daughter, Catherine, inspiring the envy and mistrust of his son, Hindley. When Earnshaw passes away, the now-grown characters must finally confront the intense feelings and rivalries that have built up throughout their years together. -- (C) Oscilloscope
News & Interviews for Wuthering Heights
Critic Reviews for Wuthering Heights
Audience Reviews for Wuthering Heights
"And those wuthering heights, in those wuthering hills, she was looking so right in her diamonds and frills!" Randomly thrown together, but still somewhat catchy song references aside, Emily Brontë's classic is back on the silver screen again, for, like, the 68th time, and people are still not seeing it, which would be more unfortunate if the people who missed this film didn't have the very good excuse that this film is boring. So, yeah, this is not quite as interesting as you would expect from an interpretation of "Wuthering Heights" that features some chick from "Skins" and a black guy as Heathcliff. Yeah, not much shuts a room up quite like changing the race of an iconic character (Good luck, Idris Elba), though it's not like this film is completely contradicting Brontë's vision, it's just getting carried away with its intrepeting her talking about Heathcliff's being "dark-skined" and whatnot, so here's to James Howson and his occasionally Obama-resembling self. Sure, Howson looks a little like Obama only at the splittest of seconds, and they're typically in when he loses the afro in real life, but the point is that he's still a reasonable casting choice if the filmmakers were really aiming to have Howson look like Obama, which would make sense, becuase the Heathcliff character is a gypsy and Obama rips people off about as much as a gypsy. I'd imagine quite a few of what handful of people who actually saw this film also got ripped off if they were walking in expecting a good film. I know my expectations got ripped off, as this film fell flat, and yet, it's not quite as messy as, well, Obama's administration, thanks to there also being some "heights" in quality (Get it?). If nothing else can be complimented about this film, it's a certain thing that is also typically worthy of praise in other films this tediously arty, and that is, of course, cinematography, with is too gritty to be truly radiant, but is still strikingly handsome, with a distinctly bleak coloring that is backed by lighting that is still pretty pronounced, mostly in a way that gives you a flavorful feel for the environment's lighting, and often in a way that is just plain stunning. Robbie Ryan's photography is gorgeous, and I cannot take that away from this mess of a film, catching your eye even when the film itself is doing anything but catching your investment, like it should, considering the value of its subject matter. Emily Brontë's vision is tampered with quite a bit in this interpretation, so much so that there really is only so much story left in the final product, but only so much can be done to obscure the reasons why Brontë's story is celebrated as a classic, being a bit formulaic as a romantic drama for its time, but generally rich with intriguingly well-rounded depth that this film deserves to boast more of. Needless to say, if there is any intrigue in the film, then it comes from the sheer value of Brontë's original vision, no matter how much it has been thinned out with this interpretation, which will, in fact, occasionally take on inspiration in storytelling departments and give you a taste of engagement value, reinforced by a consistently commendable dramatic aspect. Acting isn't stellar in this dully underwritten film, but when material is finally granted to our performers, they deliver, with the fashionably late and beautiful, if sandwich-requiring Kaya Scodelario being occasionally effective as a woman caught between a loving husband and another man who she loves, while leads Solomon Glave and the late-to-arrive James Howson particularly convince in their portrayals of the Heathcliff character, a misunderstood and mistretes individual who grows from a confused stranger in an Englishman's world into a somewhat bitter, maybe even unpredictable man who returns to a long-lost love with a broken heart. There may be only so many of them, but there are strengths in this film, and they, coupled with the film's not necessarily being incompetent, help greatly in saving the film from slipping into contempt, being genuinely memorable within this generally forgettable and misguided mess of its own design. That being said, while the film is strong in a few places, and with shortcomings that aren't necessarily a reflection of incompetence, what this film chooses to ultimately be is challenging, and not in a good way, actively making driving decisions that are nothing if not questionable. If you're wondering how an interpretation of this classically compelling story that is not incompetent could stand a chance of plummeting into mediocrity, where this film could have stayed faithful to the focus and traditional structure of its source material, it ultimately chooses to go the more offbeat path of interpreting Emily Brontë's story in a naturalist fashion that thins out plotting structure, silences music "entirely" until the credits (Man, there's no escaping Mumford & Sons), and dries up atmosphere so much that its visual equivalent would crust over, while meditating upon nothing but life simply being lived, and such a storytelling method would be more commendable, or rather, commendable at all if it even tried to meditate not just on its characters' lifestyle, but its characters' depth. I wish I could say that there is some genuine meat to expository depth, but really, there is no real development to characters in this character study, which is kept from being totally ineffective by inspiration within the characters' portrayers, but thins out exposition to where immediate development is completely absent, while the succeeding body, which takes all the time in the world meditating upon filler, neglects to meditate upon progression, so much so that years upon years within this story's conceptually lengthy timeline slip by in unnoticeable instances that tell you nothing about the should-be crucial changes within our characters and their story. As much as this film does little outside of intensely focus upon people going about their dramatic lives, you don't really get a feel for dramatic depth, because nothing that is more than superficial in every sense of the word is really said about this opus, and if that sounds disengaging enough, just wait until you hear about the aspects in this film's "plotting" that are anything but too tight. As if it's not bad enough that this film does little, if anything to flesh-out true substance, it has to add insult to injury by bloating the filler that should be at a minimum in a charater study this conceptually extensive, but ends up practically driving the final product, which bloats itself with blandly excessive material that, before too long, devolves into repetition, then into monotony. On paper, of course, this film's plot flows along just fine, with rises and falls that any focused character drama should have, but in this particular execution of Brontë's vision, exposition is so thinned out, and filler is so overblown, that final product feels, not simply aimless, but more or less plotless, and such aimlessness in "plotting" would be easier to forgive if directorial atmosphere wasn't dried up to the point of igniting severe dullness that almost amazingly never, ever, ever, ever dissipates. Like I said, there are glimpses of intrigue, but on the whole, the film is so boring that you almost get a sense that director Andrea Arnold is just messing with you, and it doesn't help that Arnold makes sure that what tone there is in the final product comes tainted with some form of self-congradualatory pretense that, when truly pronounced, is frustrating to the point of almost destroying the film. Thankfully, the film is simply too bland to be bad, but wow, it comes so close to collapsing into contempt that it's not even funny, for although the film could be worse, and would have been if it wasn't for its conceptual value and lack of traditional incompetence, it is a challenging misfire that sometimes frustrated, often disengages and always bores. In conclusion, Robbie Ryan delivers on gorgeous cinematography, while somewhat effective occasions and pretty good acting stand to remind you of the dramatic value within Emily Brontë's classic story concept, and such commendable notes join blandness' watering down things too much for disdain to consistently ensue in keeping the final product from slipping into contempt, which still comes close to claiming this misfire of a naturalist re-imagining of a should-be meaty drama, whose development is thinned out into disengaging dissipation, while aimless filler is bloated into plotless monotony, made all the more frustrating by ceaseless dullness that is itself made all the more frustrating by pretense, which isn't overbearing to the point of consistently earning your disdain, but certainly helps in making Andrea Arnold's "Wuthering Heights" a near-tedious bore that may not be downright bad, but comes heartstoppingly close. 2/5 - Weak
Cameron Johnson
Super Reviewer
A bold, passionate and vivid version of the much adapted Emily Bronte novel that dispenses much of the dialogue instead to concentration very much on the harsh weather, unforgiving Yorkshire moors, clashes of nature and passionate looks between Heathcliff and Cathy. The second half loses a little focus in places and though the elder actors are impressive it's the young versions of the doomed characters, played by Solomon Glave and Shannon Beer that really stand out. Beautifully shot, screened in the underused 4:3 ratio (which director Andrea Arnold also favoured for her earlier Fish Tank), this is an astonishingly new take on a text that had long before been banished to cliched, dusty and over-costumed films.
Daniel Parsons
Super Reviewer
½
'Wuthering Heights'. Breathtaking natural imagery, sound and raw direction in a most enjoyable tragedy. The juxtaposition of the microcosm of nature, with the insects, birds and dogs living their small lives against the grand hills and cavernous valleys throughout the seasons, is quite beautiful, and I've seen nothing like it. The haze and mist, bloom and barrenness, bright sun and heavy coat of snow. The life and death of everything in and around. The world we're part of is equally small. One house in the middle of nowhere, and halfway through, another, a few miles away. Amidst all that beauty, nature can be harsh, much like humanity. Heathcliff's rare moments of joy with Catherine are always bookended with misery, and the path of self-loathing he slides down isn't bested by his revenge against Hindley. Did I mention the lack of score? Two sung ballads is all we get, and all we need. I didn't even notice it until close to the end, but the sound design is so damn good that the wind is overwhelming, as are the sounds of the home.
Wuthering Heights Quotes
There are no approved quotes yet for this movie.