Wu xia (Dragon)
(2012)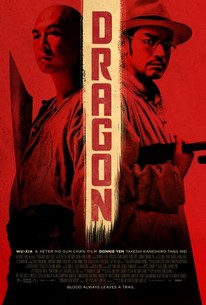 Movie Info
Liu Jin-xi (Yen) is a village craftsman whose quiet life is irrevocably shattered by the arrival of two notorious gangsters in the local general store. When Liu single-handedly saves the shopkeeper's life, he comes under investigation by detective Xu Bai-jiu (Kaneshiro). Convinced that Liu's martial arts mastery belies a hidden history of training by one of the region's vicious clans, Xu doggedly pursues the shy hero-and draws the attention of China's criminal underworld in the process (c) Weinstein Co.
News & Interviews for Wu xia (Dragon)
Critic Reviews for Wu xia (Dragon)
Audience Reviews for Wu xia (Dragon)
This was a beautifully shot movie, with a refreshing plot and character development that showed why Donnie Yen is such a great actor. He is among one of the very few actors who first broke into their careers due to their martial arts, but had developed his acting skills along the way. Good movie. Great action. Really good (if not slightly cliché) storyline. I enjoyed this very much...
Cynthia S.
Super Reviewer
I wasn't expecting to much going into this since the last Donnie Yen movie I saw, Flash Point, left allot to be desired. Wu Xia does provide good violence like Yen previous efforts, but a bigger focus on story allows Yen to showcase his dramatic side. Wu Xia follows Tang Long (Yen), a sinful martial arts expert who wants to start a new tranquil life, only to be hunted by a determined detective and his former master. The plot relies heavily on the detective to develops two characters. This makes Tang Long, who's our main character, not interesting to follow. We never really get to learn much from Tang Long himself, it's always someone else telling us something new about him. It does on other hand get everything else right. The detective character is interesting to follow since both him and the audiences are completely unsure about Yen character. It feature some great scenes and dialogue between Tang Long and the detective. Even though Tang Long wasn't as interesting to follow, he did have more as stake and seeing how he dealt with his demons is exciting to see unfold. It does go into dark territory which benefits in making the more important dramatic scenes more powerful. Despite a not so interesting leading character, it does get other elements down correctly to make a brilliant drama. Donnie Yen has never impressed with his acting, but that changed after seeing this and I do think even without violence he's great to watch. Though the script isn't the only thing that worked against him. While he did do a good job showcasing his dramatic side, he's very limited to the range of emotions he can give making it bland at times. Although there's little action here, the few set action pieces are done really well. Takeshi Kaneshiro was perfect and very believable as the detective. It's truly a mystery why he wasn't the star. Tang Wei who played Yen wife was good and even she outdid Yen in the acting department. Though the second best actor has to be Yu Wang, despite not having much screen he's very effective. It makes me wonder why the filmmakers didn't switch Yen and Wang roles. Wu Xia is a powerful drama that overcome its uninteresting leading character and actor to deliver both a gritty and intelligent drama. Fans of Yen might be disappointed by the lack of action, but that shouldn't take anything away from this great movie.
Caesar Mendez
Super Reviewer
Not a bad action-drama with Donnie Yen and Takeshi Kaneshiro as what I thought the Chinese epic film is a version of The History of Violence. As the enigmatic paper-maker in a small idyllic town with the unassuming name Liu Jinxi, Yen has finally delivered a performance which equals that of Ip Man, one that showcases his best as a dramatic actor and as a martial artist. Aubrey Lam's story raises a number of moral dilemmas, in particular whether a man can truly start anew without having to atone for his past sins, and whether there is a place for humanity in a world governed by laws and regulations. This is at the very heart of the complex intertwining relationship between Liu and Xu (played by Kaneshiro), and a fascinating one which director Peter Chan explores with panache. There is no hero or villain between the two rather, both are simply pushed up against each other by their past and the circumstance by which they had made their mutual acquaintance.
Dean McKenna
Super Reviewer
Wu xia (Dragon) Quotes
There are no approved quotes yet for this movie.