Wrong Is Right
(1982)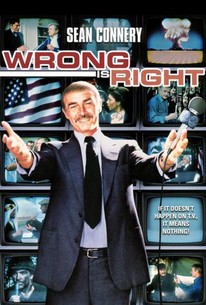 Movie Info
Based on Charles McCarry's 1979 novel The Better Angels, Wrong is Right is set in a near future in which violence has become something of a national sport and television news has fallen to tabloid depths (a significantly bigger stretch in 1982, when the film was released.) Star Sean Connery plays Patrick Hale, a globe-trotting reporter with access to a staggering array of world leaders. As the film opens, he has ventured to the Arab country of Hegreb to interview his old acquaintance, King Ibn Awad (Ron Moody). Awad has learned that the President of the United States (George Grizzard) may have issued orders for his removal; as a result, Awad is apparently making arrangements to deliver two mini-nuclear devices -- each about the size of a small suitcase -- to a terrorist, with the intention of detonating them in Israel and the United States, unless the President resigns. In the intricate plot that unfolds, nothing is quite the way it seems, and Hale finds himself caught between political leaders, revolutionaries, CIA agents and other figures, trying to get to the bottom of it all.
Critic Reviews for Wrong Is Right
Audience Reviews for Wrong Is Right
Without a doubt, one of the most prescient movies I've seen. Considering that it was made in the midst of the Cold War and it concerns oil crises and war in the Middle East, it is truly ahead of its times and right in the middle of ours. The performances are adequately hokey for the genre of satire, but too over-the-top for my taste ... esp. the opening voice over. Good social criticism, worth the time.
Jim Hunter
Super Reviewer
Most strangely prophetic movie I have ever seen. Truly horrific (funny at times) in its prescience.
Alice Shen
Super Reviewer
Average black comedy about the TV world.
Dean McKenna
Super Reviewer
Wrong Is Right Quotes
There are no approved quotes yet for this movie.