Writer of O
(2005)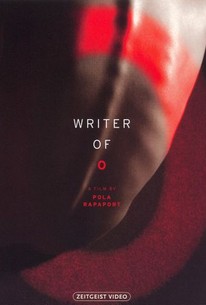 Movie Info
In 1954, one of the most notorious erotic novels of the 20th century was published -- The Story of O by Pauline Reage, which chronicled in breathless detail the intense sadomasochistic relationship between a submissive woman and a dominant man. For many years, many believed that Pauline Reage was a pseudonym for a male author, but as it turns out that was only half true. In 1994, journalist John de St. Jorre, while researching a book on Olympia Press (the fearless French publisher who first published the book) learned that Pauline Reage was in fact Dominique Aury, a well-respected and outwardly straight-laced editor for one of Europe's most prestigious publishing houses, Gallimard, who wrote the salacious volume for her lover, another powerful editor at Gallimard, Jean Paulhan. American filmmaker Pola Rapaport, who was powerfully effected by reading The Story of O, traveled to Paris to meet and interview Aury a few years before her death, and Writer of O is a documentary which blends the story of Aury's remarkable life and times with re-creations of scenes from her best-known work.
Critic Reviews for Writer of O
Audience Reviews for Writer of O
[font=Century Gothic]"The Writer of O" is a slight documentary about the "Story of O", the controversial erotic novel published in France in 1954 about a woman giving herself body and soul to her lover. Submission is in itself conservative and nothing new; the novel going so far outside the bounds of society was.(Dramatized scenes from the book do a good job of pointing this out.)[/font] [font=Century Gothic][/font] [font=Century Gothic]The documentary focuses on Dominique Aury who had originally written the novel for her lover, Jean Paulhan, and was published under a pseudonym. Interviews are also conducted with the original publisher and John de St. Jorre, a writer and journalist, who broke the story of Aury's identity forty years after the book was published.[/font] [font=Century Gothic][/font]
Writer of O Quotes
There are no approved quotes yet for this movie.