The Wraith
(1986)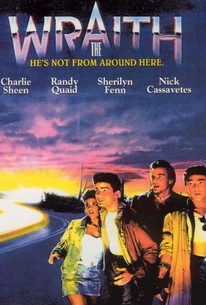 Movie Info
This supernatural teen action film is about a strange reincarnation with the emphasis on "car." Young Jamie is killed by the evil Packard (Nick Cassavetes) and his gang of thugs because Jamie was caught romancing Keri (Sherilyn Fenn), Packard's girlfriend. Suddenly "the Wraith" -- a black turbo racing car shows up to challenge Packard (sounds like a Detroit auto duel) whose livelihood comes from stealing cars. What happens next is an endless series of car chases as Packard's gang of punks start to bite the dust, one by one. Then Jake (Charlie Sheen) comes into town on a motorcycle and makes a play for Keri, giving rise to old animosities one more time.
Critic Reviews for The Wraith
Audience Reviews for The Wraith
½
20/06/2012 (ONLINE PS3)
EightThirty .
Super Reviewer
The Wraith is a supernatural action horror film that is surprisingly good. The film has gotten many bad reviews, and is considered pretty bad. But The Wraith is actually enjoyable entertainment. A group of thugs murder a kid, and suddenly a new guy shows up in town. A short while after, a mysterious car appears and hunts down the gang members. The plot is simple, yet effective. The film blends elements of action and horror perfectly. There are some eerie parts in the film, nothing ever really scary, but a tad uncomforting. This is an entertaining film that is quite underrated and it doesn't deserve the flack it has received. Sure the film is pretty silly, but it has enough good elements to make it an enjoyable film. The fact that the director is able to combine action and supernatural horror into one film makes it watchable. The film isn't perfect, but it definitely is a film worth watching if you enjoy awesome car chases, horror and vengeance spirits returning to settle a few old scores. The films' acting is questionable, but this is a B movie, so what do you expect? The Wraith may not be the best supernatural horror flick around, but the fact that it combines action elements makes this an interesting film to watch. Add to that, a pretty good hard rock, pop and heavy metal soundtrack; and you have an entertaining film. A good addition to the supernatural horror genre.
This movie may make you think of Christine or The Car, but it's different from those movies, really. It's an awesome mysterious car thriller/horror movie with a good cast, and I loved it.
The Wraith Quotes
There are no approved quotes yet for this movie.