The Woodsman
(2004)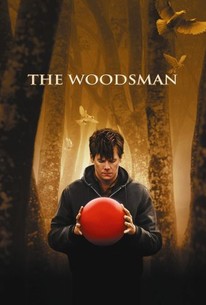 TOMATOMETER
AUDIENCE SCORE
Critic Consensus: Kevin Bacon's performance as a pedophile who is trying to start fresh has drawn raves from critics, who have praised the Woodsman as compelling, creepy, complex and well-crafted.
Movie Info
After twelve years in prison, Walter arrives in an unnamed city, moves into a small apartment across the street from an elementary school, gets a job at a lumberyard, and mostly keeps to himself. A quiet, guarded man, Walter finds unexpected solace from Vickie, a tough-talking woman who promises not to judge him for his history. But Walter cannot escape his past. A convicted sex offender, Walter is warily eyed by his brother-in-law, shunned by his sister, lives in fear of being discovered at work, and is hounded by a suspicious local police officer, Detective Lucas. After befriending a young girl in a neighborhood park, Walter must also grapple with the terrible prospect of his own reawakened demons.
News & Interviews for The Woodsman
Critic Reviews for The Woodsman
Audience Reviews for The Woodsman
A child molester adjusts to post-prison life and falls in love with a co-worker. I applaud Kevin Bacon's choice because this is a ballsy role for a star whose paychecks are secure, but his performance, which is meant to be subtle and aching, comes off like he's squeezing too hard. The film doesn't make Bacon's Walter a particularly admirable character nor is he someone we might love to hate. Instead, the film's central conflict is about getting Walter to realize the depravity of his own desires, which he does along the way, but his realization doesn't become actionable until the climactic scene. It's an interesting source for conflict, but it doesn't carry a lot of suspense. Overall, though the film is admirable in its attempt, I wasn't too compelled by the final product.
Jim Hunter
Super Reviewer
Kevin Bacon, not a name usually dropped in conversations about great actors, delivers a tightfisted, bravura performance in this conventionally unconventional tale about a child molester's attempt at societal rehabilitation. Kyra Sedgwick is more than able support as the woman who loves him. It's often difficult to watch, so be warned.
Kevin M. Williams
Super Reviewer
Slow and understated, probably to show the struggles of a very troubled soul, this film offers much to contemplate. There are no easy answers in an issue like the sexual abuse of children, and yet who is good and who is evil is not so clear here in this picture. The one thing that is clear, however, is Kevin Bacon's performance. He played his role beautifully. DIsturbing, yet eye opening film.
Cynthia S.
Super Reviewer
The Woodsman Quotes
There are no approved quotes yet for this movie.