Won't You Be My Neighbor?
(2018)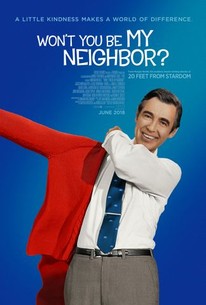 TOMATOMETER
AUDIENCE SCORE
Critic Consensus: Won't You Be My Neighbor? takes a fittingly patient and honest look at the life and legacy of a television pioneer whose work has enriched generations.
Won't You Be My Neighbor? Videos
Won't You Be My Neighbor? Photos
Movie Info
From Academy Award-winning filmmaker Morgan Neville (20 Feet from Stardom), Won't You Be My Neighbor? takes an intimate look at America's favorite neighbor: Mister Fred Rogers. A portrait of a man whom we all think we know, this emotional and moving film takes us beyond the zip-up cardigans and the land of make-believe, and into the heart of a creative genius who inspired generations of children with compassion and limitless imagination.
News & Interviews for Won't You Be My Neighbor?
Critic Reviews for Won't You Be My Neighbor?
Audience Reviews for Won't You Be My Neighbor?
Incredibly touching and powerful, Won't You Be My Neighbor? is a wonderful documentary about children's performer Fred Rogers. The film looks at how a young aspiring minister named Fred Rogers got into the burgeoning industry of children's television and created one of the most influential programs of his day. Friends, family, cast members, and industry experts discuss Roger's unique approach to educating and entertaining children and the positive messaging of his work (emphasizing each child's specialness and self-worth). Also discussed are his bold attempts to address and relieve the tensions and anxieties that children had about political events happening around them, including the Vietnam War, racial tensions, and 9/11, in terms that they would understand. Won't You Be My Neighbor? is a loving testament to the work and legacy of Mr. Rogers.
Dann Michalski
Super Reviewer
Fred Rogers was surely one of the most beautiful human beings I can think of, and this is a wonderful documentary that brought me to tears just by reminding us that people like that exist - which is perhaps the most important message anyone can offer in a world so full of madness.
Carlos Magalhães
Super Reviewer
Given the uncertainty, cruelty, and division of recent news headlines, in many ways the documentary Won't You Be My Neighbor? is the kind of movie we need right now, a film that reminds the significance of vulnerability, empathy, and simple kindness. It's also, in certain ways, a pretty shallow documentary afraid to go too far with its subject matter. From the Oscar-winning director of 20 Feet From Stardom, this is another movie giving the spotlight to a reserved soul deserving of praise, and it hits you square in the feels. It's hard not to have your heart warmed by the footage of Fred Rogers, he of the long-running and inspiring Mr. Rogers' Neighborhood, impacting children and adults, seeing those smiling faces light up with pride and joy. There's a woman at a commencement that thanks him for essentially providing her preschool education for her when her parents could not afford one. Rogers was not afraid to broach serious subjects, devoting episodes of his children's series to divorce, death, assassination, and racial integration. It's a neighborhood with a lot more daring messages than you might have recalled as a child. However, there are opportunities to push beyond the Mr. Rogers' image (though he very much was what you saw) and the film shies away from going too far. The actor who played Officer Clemons was gay, but Rogers said if he came out he would have to regrettably kick him off the show because it would be too controversial. There's a moment where the talking head interviews talk about Rogers transforming into his King Friday alter ego, but it's over so quickly it seems odd even being mentioned. After the horror of 9/11, Rogers was brought out of retirement to speak, but he wondered if he still had any ability to really reach an audience in trauma any longer. I would have liked to have delved into these questions more, but that would detract, I suppose from the overall feel-good, glowing, crowd-pleasing and admittedly heart-warming portrayal. Nate's Grade: B
Nate Zoebl
Super Reviewer
Won't You Be My Neighbor? Quotes
There are no approved quotes yet for this movie.