The Woman in Black
(1989)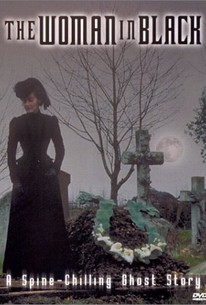 AUDIENCE SCORE
Critic Consensus: No consensus yet.
Movie Info
Woman in Black was originally made for British TV. It's a melodrama, as the title should make abundantly clear. Adrian Rawlins stars as a vacationing barrister. He becomes involved in bizarre activities at a seaside resort, predicated by an elusive mystery woman. Woman in Black was picked up for American exposure by the A&E cable network. ~ Hal Erickson, Rovi
Critic Reviews for The Woman in Black
There are no critic reviews yet for The Woman in Black. Keep checking Rotten Tomatoes for updates!
Audience Reviews for The Woman in Black
The Woman in Black is instantly recognisable as a TV movie with a low budget and television limitations. This itself is not necessarily a bad thing and adds charm and quirk in many instances. The film starts slow, like a Hitchcock movie, but unfortunately, unlike a Hitchcock movie, it continues in the same vein. It seemed to slowly pulse along like a fairy light on the way out. It promised to build into a crescendo but I feel it never did. The movie does fit nicely into the horror/melodrama slot, but it was far too much melodrama and not too much anything else. I was bored throughout most of The Woman in Black and feel that any moments of terror were more moments of jest. I did however really enjoy Spiders performance. His scenes were by far my favourite parts of the film. My goodness me that dog can act! He really is the real deal, an all round class act that should be a poster-child for all other K9 actors to aspire too. Watching The Woman in Black is like going for a walk on a treadmill; it covers ground at a slow pace but ultimately goes nowhere.
James Crawford
Super Reviewer
½
Terrific made for TV film based on the novel of the same name by Susan Hill. Now having seen the 2012 version starring Daniel Radcliffe, I just had to check this film out. Although I found the recent version to be much more scary, suspenseful and thrilling, this version is nonetheless an effective ghost story that has plenty of chills of its own. The cast do a fine job, and considering that the film is made for TV, there are plenty of good production values to please horror fans. As a whole this is a fine film that relies on old fashioned atmosphere to create its tension and it works well. I very much enjoyed the book and the films, and both versions of the film keep the bare necessities of Susan Hill's story intact, but add something else as well, thus it really makes for an entertaining, and quite chilling ghost story. Herbert Wise crafts a solid little supernatural film that is a must see if you're looking for a good old fashioned supernatural horror film. As far as made for TV films are concerned, The Woman in Black is quite scary, and will keep you on the edge of your seat. However at times the film does have a few weak elements, nonetheless this is a fine throwback to classic horror. I thoroughly recommend this film, and I think that this is a perfect example of a horror film done right With a great cast, a well written script, and effective directing, The Woman in Black is one of the best made for TV films that I have seen in quite some time.
"The Woman In Black" is a good and very atmospheric ghost story that is well acted, excellently paced and a good storyline to create interest and true scares..
The Woman in Black Quotes
There are no approved quotes yet for this movie.