Wolf Creek
(2005)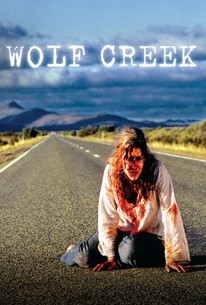 Movie Info
A dream vacation turns into a nightmare in this taut thriller from Australia. Ben (Nathan Phillips), Lizzie (Cassandra Magrath), and Kristy (Kestie Morassi) are three friends who, after a night of celebratory drinking, hit the road for a trip to Wolf Creek National Park, where they plan to spend a week hiking and surfing. The three friends are happy to be spending time together, especially after Ben makes the happy discovery that Lizzie is as infatuated with him as he is with her. However, after a long day on foot, Ben, Lizzie, and Kristy make the unpleasant discovery that their car's battery is dead, leaving them stuck in the middle of nowhere. Help arrives in the form of Mick (John Jarratt), a burly but good-natured outdoorsman who happens upon them; Mick tells them that he can fix their car, and offers to give them a ride to his place down the road. Grateful but a bit nervous around the gregarious stranger, Ben, Lizzie, and Kristy offer Mick a wealth of thanks for his help, and give him some money for his troubles before they fall asleep around the campfire. The next morning, the travelers find themselves bound, gagged, drugged, and separated from one another, and they realize Mick is not the good Samaritan they imagined. Wolf Creek was the first feature film from writer and director Greg McLean. ~ Mark Deming, Rovi
News & Interviews for Wolf Creek
Critic Reviews for Wolf Creek
Audience Reviews for Wolf Creek
½
With a promising start which builds up slowly 'Wolf Creek' had some potential, unfortunately it completely wimps out. Three friends go on vacation and shortly run into trouble while in the Australian outback when their car randomly breaks down along with their watches, with nothing to do but wait the team eventually stumbles upon a stranger in the desert and turn to him for help fixing their car. What they don't know is that said stranger isn't as nice as he first comes across. The best part of 'Wolf Creek' is undoubtedly the development, it sets up characters nicely and even introduces a romantic sub-plot. Sadly, however, all the hard work put into the first half amounts to nothing, as the film quickly desends into an average slasher movie and the first half is completely forgotten. The characters become just a tool for the violence and the romanticism is never mentioned again. If you enjoy playing 'Where's Wally' with film cliches check this out, it has every one in the slasher book, such a shame after the beginining. The soundtrack was alright though.
Cameron Sherwell
Super Reviewer
½
This movie was so incredibly slow. It's not even like they were developing the characters more in the first hour they were just camping and talking and chilling and walking around. I literally fell asleep. I woke up and it was the next day. I had to go back and finish it. It was really slow and pointless the first hour. Yeah it was 1 motherfucking hour of bullshit where nothing interesting happened at all. Then when things started getting interesting, it was just cliche after cliche of predictable bullshit. So yeah the bullshit continued well past the first hour. The characters running around screaming getting tortured. Then the girl doesn't double tap the mad man she just shot, she just runs away and leaves a weapon right beside him. Smart move, very smart move. Then stealing his truck and crashing into the building, nice job, nice job. Then taking one of her friends and leaving the other one behind nailed to a post, that was very sweet of her. It's a seen it before movie. Even if it was loosely based off of a true story, the movie is not believable in the slightest. I thought this movie was going to be good when I saw it, but OMG it was pretty bad. The acting wasn't too bad, it's just the illogical impulsive decisions made by the characters and the outrageous action of the film that made it suck. The ending didn't make any sense also. Why was Ben even in the mine? Why wasn't he with the girls? What the fuck was that rottweiler doing there? Where did it even come from? It was so weird.
½
A vacation to the beautiful Australian outback goes terribly wrong once it is visited by horror's smiling answer to Crocodile Dundee. What possibly could go wrong out in the desolate wastes, miles from nowhere? Well ... people disappear.
Kevin M. Williams
Super Reviewer
Wolf Creek Quotes
There are no approved quotes yet for this movie.