Without a Clue
(1988)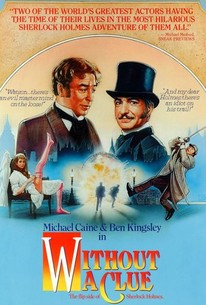 Movie Info
A drunken Sherlock Holmes is really just a cover for the real detective - Dr Watson.
Critic Reviews for Without a Clue
Audience Reviews for Without a Clue
½
I can't understand why this never did well upon release as I think its a marvellous spoof/comedy that is perfectly cast with Caine and Kinglsey as 'Holmes' and 'Watson'. This could easily of come from the mind of Mel Brooks really its that kind of light hearted romp with silly jokes and silly prat falls, not too childish just about right. The plot for the film is also quite genius, simply the roles are reversed, Watson (Kingsley) is the brilliant detective and Holmes (Caine) is actually a bumbling drunk who is employed by Watson to pretend to be the real Holmes for the sake of his novels and his own job. Caine's character is actually called 'Reg Kinclaid' who simply inherits the name of Holmes for the big cover up that the real Watson has orchestrated. What is also quite impressive is the look of the film, sets, costumes and location work are all really well done and look quite realistic, add to this a very impressive cast of classic stars (mainly English) and this really is a top class adventure very much like Gene Wilder's film 'The Adventure of Sherlock Holmes' Smarter Brother' only much better looking.
Phil Hubbs
Super Reviewer
Without a Clue is an amusing parody of the Sherlock Holmes stories in which the true genius is Ben Kingsley's Dr. Watson, Holmes being a womanising drunken actor hired to play the part. There's little here that hasn't been done before as Conan Doyle's stories have been pillaged for material ever since they were written, but the comic chemistry between the two talented leads works brilliantly. Michael Caine's clearly loving every minute of it and in combination with Kingsley's ever more disdainful and exasperated Watson, they make a great comic partnership. The plot is minimal, feeling like an upmarket Carry On story or the English cousin of Clouseau, but it's all done with such infectious, knockabout charm it rarely fails to raise a smile. Hardly a world changer, but a pleasant diversion on a rainy afternoon.
Such an underrated film. This is a great twist on the characters, and the two leads are superb. The film itself doesn't go anywhere you don't expect, but there are plenty of chuckles along the way. Worth a watch.
Marcus Woolcott
Super Reviewer
Without a Clue Quotes
There are no approved quotes yet for this movie.