Nattvardsgästerna (Winter Light)
(1962)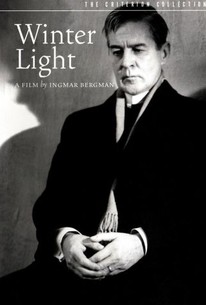 Nattvardsgästerna (Winter Light) Photos
Movie Info
The Winter Light is the second in a trilogy of dramas by acclaimed Swedish director Ingmar Bergman that explores religious faith and doubts in a visceral, visual, and provocative manner. The first, Through a Glass Darkly, was an international success and heralded this new phase in the director's career. This compelling drama is set within a three-hour period on a Sunday afternoon in November, and begins when the local pastor, Tomas Ericsson (Gunnar Bjornstrand), is finishing his sermon. As of late, Pastor Ericsson has watched his congregation dwindle to a minimal level. Among the remaining parishioners is Marta (Ingrid Thulin) a plain-looking schoolteacher who has long been in love with the pastor. Meanwhile, fisherman Jonas (Max von Sydow) is anxiety-ridden over the nuclear power of the Communist Chinese, but Pastor Ericsson cannot help him, saddled with some overwhelming spiritual dilemmas of his own. As Ericsson struggles with his demons and faces Marta's unwanted (and to him, repugnant) romantic attentions, some hints of the qualities of God begin to surface. ~ Eleanor Mannikka, Rovi
News & Interviews for Nattvardsgästerna (Winter Light)
Critic Reviews for Nattvardsgästerna (Winter Light)
Audience Reviews for Nattvardsgästerna (Winter Light)
½
a thoughtful and well acted portrait of the struggle to face doubt and the apparent silence of God in human affairs. the conversation between tomas and algot at the end is really what brings this film full circle and makes it worth while, and some of the shots in the film and the way the scenes were staged set a perfect backdrop for the subject matter. a solid film.
The entire film takes place over a three hour period one afternoon in a cold and lonely swedish village. Tomas is the preacher at a church where attendance has dwindled so much it can be counted on one hand. But it's difficult to expect people to come hear someone preach when his own faith lacks conviction. Pastor Tomas has the "old schoolmarm" (played by Ingrid Thulin- who was 37 at the time) looking after him... well, actually the two are having an affair, albeit a rather passionless one. Even though she loves Tomas deeply, he refuses to return her love, as he's still mourning the loss of his wife. In one scene, Tomas tells a suicidal parishioner about his time spent on the battlefield during the war, where he witnessed brutality that contradicted everything God represented to him until his God became a compartmentalized, secret thing that only his wife could really help him to understand. It's his mistress who wants to fill that void in his life, but Tomas can only mire himself in what he calls "God's silence". With Winter Light, writer/director Ingmar Bergman tells a very basic, straightforward story that is wrought with painful and very real emotions. Like characters from many other Bergman films, pastor Tomas is so wrapped up in his own pain, so self-absorbed, he fails to have any empathy whatsoever to his fellow man. It's not so much his beliefs (or God) have failed him so much as he's failed his beliefs. There is much weakness in these characters, but also much strength. What does one do when they think they've uncovered some unalterable truth that everything they've believed in is a lie? How does a mind recover from unbearably naked revelations? Tomas tries so hard to maintain the lie he lives that the only logical result is the resentment of existence itself.
Devon Bott
Super Reviewer
Film number two in Bergman's "Silent God" trilogy. Very bleak, but thought provoking. I guess somethings will never change. Those who have religion seem to resent those for whome (because of logic and science) can not justify such beliefs. And those who shun religion seem to pitty those who are able to find contentment in their faith. We desperately try to convince ourselves (and others) that our beliefs are just, but ultimately is anyone ever TRULY AND COMPLETELY content in their beliefs? I believe that only a fool would answer yes to that question.
Nattvardsgästerna (Winter Light) Quotes
There are no approved quotes yet for this movie.