The Winning Season
(2010)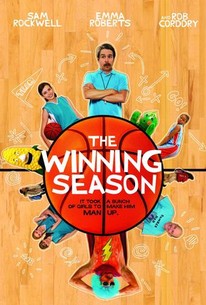 The Winning Season Photos
Movie Info
Set in suburban Indiana, the film stars Rockwell as Bill Greaves, an adult misfit recruited by the local high school principal (Corddry) to coach the school's floundering girls' basketball team. Initially retreating from what appears to be a hopeless situation, Bill perseveres and manages to help the team and its captain (Roberts) ratchet up its competitive spirit, while the girls offer Bill a renewed life focus. THE WINNING SEASON also stars Shareeka Epps, Emily Rios and Margo Martindale.-- (C) Lionsgate
News & Interviews for The Winning Season
Critic Reviews for The Winning Season
Audience Reviews for The Winning Season
½
Sam Rockwell and Margo Martindale are excellent but the film is an ordinary impowerment story that's been done a million times. It does have a positive message about being true to who you really are though. Not a bad film but very average.
I didnt expect to like this movie. The start was a little slow, and I wasn't sure how well put together this movie was going to be. Before too long, however, I was all on board! Very dry, quirky, understated humor here, which seems to be Sam Rockwell's forte, and I love that. The girls were fantastic. Just an all round fun Independent film.
Cynthia S.
Super Reviewer
It took a bunch of girls to make him man up. Great Film! This is not a bad film at all, It was shockingly impressive and good. Sam Rockwell was so hilarious and into his role, he's a very talented actor. He seems to be the reason why this film is pretty good. He's basically a drunken asshole, very unlikable, but he completely draws you in so there's a real emotional connection for the dramatic elements. And as he has demonstrated before, his physical comedy antics are perfect making the comedy scenes pretty funny. "The Winning Season" has been done many times before, but here they managed to do it without being cheesy, while providing quality scenes of drama and comedy. If you like the genre, it is certainly worth a look. Highly recommended! In a Hoosier town, boys' basketball is king. Bill is a former athlete and high-school coach who drinks too much, rarely sees his daughter from an old marriage, and busses tables at a local cafe. A friend who's now a principal offers him a job coaching girls; Bill takes it without much spirit. Six come to practice; one has a broken foot. They're awful in their first game, and Bill has to figure out, with help from Donna, the school's burly bus driver, if he actually can coach girls. They respond, and Bill suddenly has a family of sorts, just as his own relationship with his daughter worsens. With a winning season in reach, will Bill blow this chance?
The Winning Season Quotes
There are no approved quotes yet for this movie.