Willow Creek
(2014)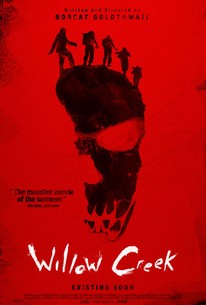 TOMATOMETER
AUDIENCE SCORE
Critic Consensus: Writer-director Bobcat Goldthwait's first foray into horror doesn't break any new ground, but it does wring fresh terror from a well-worn genre formula -- and offers a few nasty laughs in the bargain.
Movie Info
Described by Jimmy Kimmel as "Scary and the Hendersons" and by writer-director Bobcat Goldthwait himself as "The Blair-Squatch Project," found footage movie Willow Creek is a radical departure in Goldthwait's career after directing a string of black comedies (World's Greatest Dad, God Bless America). In the great American tradition of people venturing into the woods and encountering absolutely pants-wetting terror, what starts as two dorks with a video camera having a lark in a national park metastasizes into something much deeper, darker, and queasier. Set in Humboldt County, California, Willow Creek centers on Jim (Bryce Johnson, Pretty Little Liars) a Bigfoot believer whose idea of a romantic getaway is to head deep into Six Rivers National Forest in Northern California, video camera in tow, trying to shoot his own Bigfoot footage at the site of the Patterson-Gimlin film. That 1967 fragment of footage purporting to show Sasquatch striding along a dry riverbed became a key artifact in the cryptozoology community, and Jim dreams of nothing more than setting foot on the actual location where it was shot. His long-suffering girlfriend, Kelly (Alexie Gilmore, World's Greatest Dad), agrees to tag along for the ride, despite the fact that she thinks Bigfoot has about as much chance of being real as leprechauns. (c) MPI Dark Skies
News & Interviews for Willow Creek
Critic Reviews for Willow Creek
Audience Reviews for Willow Creek
It may be "The Blair-Squatch Project" but I haven't seen a found footage movie this well made and scary in a very long time - and it is so great to see how it takes its time to bring us close to its characters before throwing them (with us) in such a terrifying situation.
Carlos Magalhães
Super Reviewer
Bobcat Goldthwait is an audacious writer-director who has been consistently underestimated and no one could've concocted that he would upend the found-footage subgenre with 'Willow Creek', a flippant faux-documentary on the Bigfoot mythos. With a tinge of verisimilitude, novice filmmaker Jim (Bryce Johnson) actually checks and tests the audio levels on his equipment before he begins his series of ungainly interviews with Bluff Creek locals who range from blithe non-believers to devout Sasquatch enthusiasts. Murals of the fabled creature erecting a house are subject of very funny potshots from Jim and the film is not without a winking sense of humor (ex. They comment that no cell reception is the "beginning of every horror movie"). Although his approach is DIY and minimalist, Goldthwait is quite astute about the unrefined mockumentary format like the line reading flubs and uncooperative raconteurs ala the visiting-center woman who is awfully monosyllabic and vague. The coup de grace is an unvarnished 20-minute long take with Jim and Kelly (Alexie Gilmore) cowering in fear from the acoustics (wood-knocking, yelps and footsteps) in the surrounding campsite and the effect is eerie and heart-palpitating. For the most part, Jim and Kelly are extremely affable leads and this causes the audience to feel consternation when they are threatened to vacate the site of the 1967 Patterson-Gimlin reel. Normally horror fans are programmed to believe that daylight is sanctum from nocturnal terror, but Bobcat ramps up the trepidation with hair samples and snarling vocalizations near a ravine.
Cory Taylor
Super Reviewer
MisterYoda ?
Super Reviewer
Willow Creek Quotes
There are no approved quotes yet for this movie.