Wild Things 2
(2004)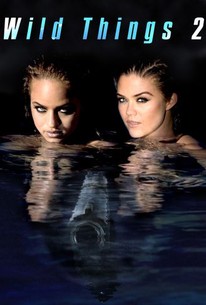 AUDIENCE SCORE
Critic Consensus: No consensus yet.
Movie Info
Dirty deeds among the rich, poor, and generally unscrupulous have come back into style in this direct-to-video sequel to the hit Wild Things. Niles Dunlap, a wealthy but less than honest businessman, dies unexpectedly in a light plane accident, and his teenaged step-daughter, Brittney Havers (Susan Ward), figures she's a shoo-in to inherit his fortune; however, Brittney discovers that Niles's will stipulates that his 40-million-dollar estate is to go to a charitable foundation unless a "blood heir" can be produced. Enter Maya King (Leila Arcieri), a schoolmate of Brittney's, who claims that she's Dunlap's illegitimate daughter -- according to Maya, her mother worked as a maid for the Dunlap family, and Maya was born after her mother was seduced by Niles. Meanwhile, Terence Bridge (Isaiah Washington) is an insurance investigator whose job is to hang in the balance. His employers would just as soon not pay off the two-million-dollar life insurance policy Dunlap had taken out, and Bridge is hoping to prove that the plane wreck was no accident.
Critic Reviews for Wild Things 2
Audience Reviews for Wild Things 2
Atrocious piece of garbage doesn't even begin to describe Wild Things 2. It has none of the sensuality or intrigue that the original had. And, the story is more or less a carbon copy of the original; Blue Bay heiress Brittney Havers works out a scheme to receive her inheritance which she was denied in her step-father's will, but before long Brittney and her accomplices start to turn on each other. The plot's completely ridiculous and is full of needless twists. But the so called "acting" is what really damns this film and makes is practically unwatchable. A trashy, formulaic thriller, Wild Things 2 is complete crap.
Dann Michalski
Super Reviewer
A rehash of the first wild things. A supposedly good girl and bad girl team up to scam some adults. Isaiah Washington is a patsy insurance man. The writers seem to have delusions that their plot is as twisty as the original. The double crosses, reveals during the end credits and the young actors do not make this one titillating.
Byron Brubaker
Super Reviewer
So they almost did a carbon copy plot of the first, so it becomes very predictable and the twists are no surprise at all. Then do it with a smaller budget, lesser known actors and make it no way near as sexy as the first. If you liked the first one a lot this is a cheap imitation. It's not a bad thriller, but if you have seen the first there are no surprises to be had. Otherwise it's ok viewing if you like thrillers.
Wild Things 2 Quotes
There are no approved quotes yet for this movie.