Wild Strawberries
(1957)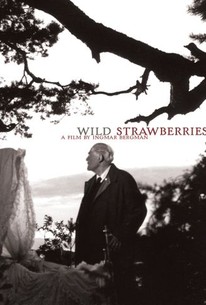 TOMATOMETER
AUDIENCE SCORE
Critic Consensus: Wild Strawberries were never so bittersweet as Ingmar Bergman's beautifully written and filmed look at one man's nostalgic journey into the past.
Movie Info
Possibly Ingmar Bergman's greatest film, this profound character study chronicles an automobile trip taken by an elderly medical professor to accept an honorary degree. Incidents and conversations occurring during the journey are intermixed with dreams and memories as the old man comes to terms with the life he has lived.
News & Interviews for Wild Strawberries
Critic Reviews for Wild Strawberries
Audience Reviews for Wild Strawberries
much less involved than many of bergman's other films, but profound in its simplicity. i was less impressed with the camera work than usual for his films, but the story lends itself well to introspection. charming.
½
"You know so much, and you don't know anything." Master of all things meaningful, oeuvre-crafter Ingmar Bergman is no stranger to philosophy. Where the common director goes for the risklessly safe, Bergman takes the audacious route in a prototype vehicle. Every undertaking a challenge. Every tale a crack at the Herculean questions of life and death. "Who am I and why have I become this way?" are the ones at the heart of Wild Strawberries, a character study of infinite appliance, about an old medical professor named Dr. Isak Borg, who at the winter of his existence reminisce on the choices and events that would eventually arrive at his socially distanced self. Lonely, in part by selection. Cynical and cranky, as the result of incidents made fog-like by the opacity of years gone by. But then it comes to him in a dream: angst-filled, strikingly symbolic imagery, involving a handless clock (as if to say his time is up) a coffin, flying open, revealing his still alive double expressing spiritual unrest (a self-explanatory metaphor) and last, but certainly least on the bizarreness barometer, a man with a face that - in lack of a better description - only a mother could love. To that last bit I say: [insert interpretation here]. But it is disturbing, let me tell you. Catalytic in effect, the dream sequence also has the function of a pivotal epiphany. A knock on the door from the bony knuckles of the Grim Reaper (and perhaps a game of chess later on) which in reality manifests itself as an altered course of action. Instead of, as he had originally planned, taking a plane from his home in Stockholm to Lund where he is expected to receive an honorary degree, Dr. Borg decides to go by car instead, making a few stops along the way in what becomes an external journey as much as a spiritual one. Following along is Marianne, his daughter-in-law played by the drop-dead gorgeous Ingrid Thulin. An actress of such contemporary beauty that you'd never guess it was shot in 1957. We also meet Sara, a sassy young woman (in a vibrant turn by Bibi Andersson) and her entourage consisting of two men at different positions regarding the existence of God. There are some fantastic scenes involving these two; starting off as intellectual debate and later escalating to some more testosterone-filled pushing and shoving. After which Sara hilariously responds: "Well, is there a God?" There's a lot of humorous touches like that baked into the strawberry pie, which makes it all the tastier. Sweet as that may be though, the main ingredient is more like lemon; sour at Dr. Isak's musings, about love lost and desires unfulfilled. A character who we get to know inside and out, as memories from his past suddenly becomes clear as day; accounting for his glass-is-half-empty persona, as well as the anima in which we discover a man full of warmth and love. In theme and sentiment, it reminded me a great deal of Charles Dickens' A Christmas Carol and works beautifully as a companion piece to The Seventh Seal. The soul-searching, the existential reflections - it not only mirrors Bergman's own inner struggles at the time (referred to as his "middle period") but also serves as an insightful clue to the subversive, independent thought patterns that shaped the modern Swedish mindset and made it what it is today. If I'm going to fault the film for anything, it's that shifts in dialogue between poetic and folksy aren't always in concert. For the most part, the screenplay nails it, so it's by no means a major issue, but enough to place it half a star away from a perfect score. Apart from that, however, a deeply mesmerizing meditation on life, death, faith and regret. Riveting performance by Victor Sjöström as Dr. Borg and a magnificent film altogether, which became even more captivating by the fact that I have traveled on some of the same roads as they do in the film (both scenery-wise and spiritually I should say). Yet, to put it all in words, as I have attempted here, is rather futile when it comes to Bergman. There's not a film by him that I have seen so far that haven't submerged me in a flood of ethereal contemplation. Timeless and spellbinding, it's a maelstrom, however, that I'm more than happy to swirl about in. http://www.facebook.com/pages/Mikes-Movie-Reviews/281824101875153?ref=hl
An aging professor has dreams and flashbacks to his youth as he drives to a university to accept an honorary degree. An elegiac reflection on an ordinary life; many people respond empathetically to this one, while it leaves many others (like me) a bit cold.
Wild Strawberries Quotes
There are no approved quotes yet for this movie.