Wild River
(1960)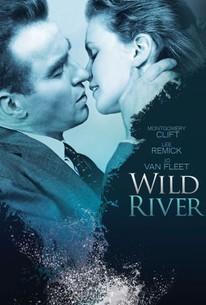 Movie Info
Filmed on location in the Tennessee Valley, Wild River is set in the early 1930s. Montgomery Clift plays an idealistic TVA agent, assigned to convince the locals to move from their property so that a beneficial dam can be built. The principal holdout is feisty octogenarian Jo Van Fleet, who refuses to budge from her land, convinced that she will die if she ever gives an inch. Her prophecy turns out to be true, as Van Fleet becomes yet another sacrifice to progress. Clift also runs into opposition because of his fair treatment of the local black population. Lee Remick costars as Van Fleet's granddaughter, who comes to love and understand the sensitive Clift. Some dated fuzzy-headed liberalism aside, Wild River is a masterful recreation of a difficult, complex period in American history. Watch for an uncredited Bruce Dern in his film debut. ~ Hal Erickson, Rovi
Critic Reviews for Wild River
Audience Reviews for Wild River
A government official turns up in a flood ravaged Tennessee town, circa 1930's, to order the residents to move so that a dam can be set in place. Many conflicts ensue, all set against the peaceful country surroundings. It's an interesting mood piece of a film, with the ladies doing all of the heavy lifting onscreen.
Kevin M. Williams
Super Reviewer
½
Strong little known drama with excellent work from all involved.
Will the river stay wild or be tamed? You can ask the same of the old woman who lives on the island about to be flooded or the other characters in this heartfelt melodrama. It features wonderful, yet restrained performances, particularly by Clift. The love story between Clift's character, the TVA representative and local girl Carol Garth (Lee Remick)is as important to the story as the TVA's struggle to evict the inhabitants of one island. Furthermore, the TVA and Clift struggle to drag the town into the 20th century, including some degree of racial integration. Although much younger than these characters, having grown up in a similar town in TN, I found them and their town believeable. Wild River was filmed on location on the Hiawassee river near Charleston,TN. Finally,the cinematography is excellent. Elia Kazan and his crew did a superb job all around. Highly recommended.
Clintus Maximus
Super Reviewer
Wild River Quotes
There are no approved quotes yet for this movie.