Who's Your Monkey?
(2007)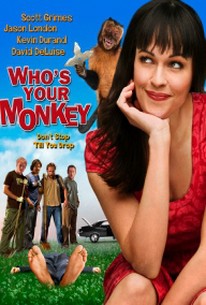 AUDIENCE SCORE
Critic Consensus: No consensus yet.
Who's Your Monkey? Photos
Movie Info
The childhood friendship between four lifelong friends is unexpectedly rekindled after one of them kills a notorious drug dealer and the rest of the group conspires to cover up the crime. Beer-guzzling widower Bobby Stork was locked into a downward spiral of depression when he ran across his old pal Mark Van Houten -- an unemployed doctor who now pays the bills by cooking up crystal meth. Upon relaying Mark's dilemma to their mutual friends, uptight Laith Rukkab and expectant father Hutto, the three pals agree that they need to snap their old friend back to reality before it's too late. In order to do so, Bobby, Laith, and Hutto agree to present Mark with the throwing stars that the four friends used to play with back when they were kids. Mark's best customer is a notorious drug dealer and animal porn producer named Reed, and when Laith and Bobby pass Reed's car on the way to deliver the throwing stars, they can't resist the opportunity to free the unwilling "actors" that are locked inside. But somehow, in the midst of the confusion, Laith drops one of the throwing stars in Reed's car. Enraged by the break-in and infuriated by the fact that Mark hasn't finished cooking up his latest batch of meth, Reed notices a throwing star on Mark's table and assumes that he's found the person responsible for the break-in. In a fit of rage, Reed tries to murder Mark. But Mark is armed with a throwing star, and somehow manages to kill his attacker with a well-aimed throw. With precious little time to loose before the authorities catch on, Bobby, Laith, and Hutto go to work in helping get rid of the evidence and cook up a foolproof alibi. But these kind of cover-ups rarely go off without a hitch, and over the course of this eventful night these four friends will be forced to contend with an especially mischievous monkey as they each come to some startling realizations about the unexpected directions that their lives have taken as of late.
Critic Reviews for Who's Your Monkey?
There are no critic reviews yet for Who's Your Monkey?. Keep checking Rotten Tomatoes for updates!
Audience Reviews for Who's Your Monkey?
If your friends are willing to help you get rid of a dead body then thats true friendship right there (Ha Ha) This movie is just so twisted, You have to see it for yourself
Brody Manson
Super Reviewer
Who's Your Monkey? Quotes
There are no approved quotes yet for this movie.