Whoever Slew Auntie Roo?
(1971)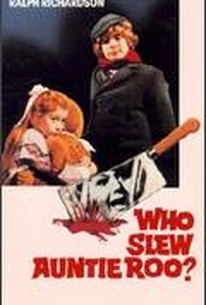 Movie Info
In this English film, a group of orphans visiting the home of a wealthy, retired singer (Shelley Winters) discover that the woman is hiding a disturbing secret. ~ Iotis Erlewine, Rovi
News & Interviews for Whoever Slew Auntie Roo?
Critic Reviews for Whoever Slew Auntie Roo?
Audience Reviews for Whoever Slew Auntie Roo?
Whoever Slew Auntie Roo? is sort of a campy classic. Yes, the acting was bad, yes there are many plot holes, yes I didn't like any of the characters, but it was still fun to watch. The problem with this film is that Shelly Winters wasn't that mad at all and the children are horrible brats. The connection with Hansel and Gretel was very weak, could have been done better if the reason for the abduction of the children was changed to something more sinister.
Sylvester Kuo
Super Reviewer
½
Shelley Winters is a crazy retired actress (affectionately nicknamed "Auntie Roo") living in a creepy mansion hosting kids from an Orphanage every Christmas season. There are mysteries about her daughter's death and afterlife. It becomes a modern tale of Hansel and Gretel when the witch-like Roo abducts a girl and her brother because the girls resembles her dead daughter. I liked the scenes with the dead girl's teddy bear.Shelley over-acted a bit, making it hard to believe, but it was fun at first. Once the kids got abducted and tried escaping, the scenes were creepy but plodding. The finale was memorable, when we learned "Whoever Slew Auntie Roo".
Lafe Fredbjornson
Super Reviewer
½
A surprisingly disturbing film, based on the Grimms fairy tale Hansel and Gretel. I was expecting a kiddie scary movie, but I was wrong. A wealthy widow, played by Shelley Winters in all her hammy glory, takes selected children from the local orphanage into her home for a Christmas party. Christopher (Mark Lester of Oliver! fame) and Katie (Chloe Franks) were excluded because of bad behavior but sneak to the party anyway. Winters, grief-stricken and a little wacky and irrational from losing her daughter in an accident years before, kidnaps the children to replace her dead daughter. Katie is happy because she is being treated well, but Christopher, after reading the story Hansel and Gretel, decides that Winters is a witch who is trying to eat them, and sets out to stop her. If you know the story of H&G, you know the rest. But there is a difference. In the original story, it's made very clear to the children that the witch plans on eating them. In this film, Winters actually treats the kids very well, in effect adopting them, even if it is adoption by kidnapping. All the evidence that she is fatting them up for her next meal is all circumstantial, built up in these kid's evil imaginations. The smiles they gave each other after they burned Winters to death has stuck in my head for three days. Am I overreacting, or does anybody else think that these kids are budding serial killers?
Whoever Slew Auntie Roo? Quotes
There are no approved quotes yet for this movie.