White Noise
(2005)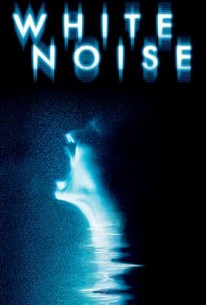 Movie Info
Successful architect Jonathan Rivers' peaceful existence is shattered by the unexplained disappearance and death of his wife, Anna. Jonathan is eventually contacted by a man, who claims to be receiving messages from Anna through EVP (Electronic Voice Phenomenon). At first skeptical, Jonathan then becomes convinced of the messages' validity, and is soon obsessed with trying to contact her on his own. His further explorations into EVP and the accompanying supernatural messages unwittingly open a door to another world, allowing something uninvited into his life.
News & Interviews for White Noise
Critic Reviews for White Noise
Audience Reviews for White Noise
½
Sort of an interesting premise (a deeply grieving husband is contacted by his recently deceased wife) but like a lot of supernatural thrillers its creepy set-up is ultimately better than its delivery. The cast and crew does well but the script has little for them to finish with.
Kevin M. Williams
Super Reviewer
It boasts a very interesting premise and it does have its own scares and thrills. Backed up by convincing acting it's not as bad as its put out to be. The problem with White Noise however is its muzzled plotline that can sometimes be a bit of distraction from listening.
Directors Cat
Super Reviewer
½
White Noise is a decent psychological horror film that has a good premise, but the plots at times doesn't really work. However the film is held together by a good cast that includes Michael Keaton and Deborah Kara Unger. The film has enough momentum to entertain you, and the plot is quite interesting. However, it's clear that the film could have been done much better, and the film could have something really great. Instead the end result is a mixed bag. The film is entertaining, but it leaves you wanting more. The ideas on-screen work, but only to a certain degree. Then the films sort of falls apart. I think it's a real shame, because the film had so much potential at being a better film than it is. White Noise is not a terrible film, neither is it a missed opportunity, however it could have been something terrific, but director Geoffrey Sax doesn't know where to go at times with his story, like he's almost not interested in telling an effective, and creepy story. For the most part, White Noise does have good chills and effective tension, however halfway through the middle things get kind of shaky and the story falls apart. After a while the plot becomes boring, and the story lumbers around to a somewhat lacking ending. What was a strong beginning is a disappointing ending to a decent film. The film had the potential of being an effective horror film, but in the end, it's a decent film that has an anticlimactic ending. Entertaining, but flawed, White Noise is good, but suffers from a poor second half.
White Noise Quotes
There are no approved quotes yet for this movie.