The White Countess
(2005)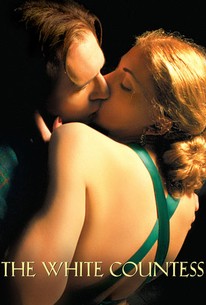 The White Countess Photos
Movie Info
After losing his wife, daughter, and eyesight in the violent political unrest of 1930s Shanghai, former diplomat Todd Jackson (Ralph Fiennes) develops an obsession with creating the perfect, most comfortable and elegant bar. As he explores seedy dives, searching for the one he could convert, he meets a White Russian refugee (Natasha Richardson) who was once a countess but now works as a taxi driver and sometimes prostitute in order to support her late husband's family. Todd takes her on as a partner and names the bar The White Countess, though he does not know where his dealings with the shadowy woman will lead.
Critic Reviews for The White Countess
Audience Reviews for The White Countess
A blind American diplomat and a exiled Russian countess join forces to build a jazz nightclub in Shanghai in the period leading up to the Second Sino-Japanese War. Typical of a Merchant/Ivory production, the set and costume design is lush and colorful, a work of art by itself. But also typical of their work, there is an awful lot of talk; in fact, most of the conflict in this film takes place in the past, the characters revealing tortured bits about themselves rather than the suspense created from watching conflict happen. The only scenes in which this flaw is not true are in the third act, far too late. The highlights of the film are the performances by the brooding Ralph Fiennes and the glamorous Natasha Richardson. Both actors create sharp characters, and they make the too-talky exposition compelling just by their presence. I think that many American audiences, many of whom haven't been exposed to Chinese history, will get lost, unable to place the political turmoil that backdrops the film's action. The White Countess is set in that odd time between the wars, and there are few clues to ground the setting. What is more, many Americans may not realize what a diverse, bustling metropolis Shanghai was at this time and why it is conceivable that the Russian aristocracy would be exiled there. Hopefully this film is an impetus to pick up a history book or two (if you actually go beyond Wikipedia, I recommend The Soong Dynasty by Sterling Seagrave). Overall, The White Countess is by no means a great film, but it has a lot to offer for the right audience.
Jim Hunter
Super Reviewer
½
So there I was sittin on the couch scrolling through the guide when I see Ralph Fiennes. Automatically I hit record. I had barley any Idea wht this movie would be about. but, It had Ralph Fiennes and Jazz. Surpirse Surpirse, I LOOOVED IT!! Fiennes is without a doubt one of our greatest actros of the century! I cannot believe that He has yet to win an Oscar. I was kind hoping from more romance between Ralph and Natasha Richardson (Who was amazing as well) but thats ok, Such a great movie with some very good performances!
Morgan Salem
Super Reviewer
½
Great cast, dull execution
The White Countess Quotes
There are no approved quotes yet for this movie.