White Chicks
(2004)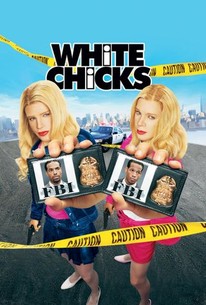 Movie Info
When brothers and fellow FBI agents Marcus (Marlon Wayans) and Kevin Copeland (Shawn Wayans) accidentally ruin an otherwise painstakingly executed drug bust, getting back into the good graces of their boss becomes a high-priority assignment in itself. With this in mind, Marcus and Kevin take on a case far beneath their usual standards when they agree to escort socialite sisters Brittany (Maitland Ward) and Tiffany Wilton (Anne Dudek) from a private terminal at JFK Airport to their hotel room in the Hamptons. Once there, two considerably higher-ranking agents will take over the girls' protection. The extra security is no mere perk of wealth, however, as it appears that Brittany and Tiffany have been targeted by a serial kidnapper. The FBI hopes to apprehend the perpetrator by using the girls as bait, unbeknownst to them. The plan may have worked if it weren't for Kevin and Marcus, who manage to let the sisters in on the secret. Understandably, neither of them want any part in the process, so they force the brothers to come up with a radical solution: With the help of an FBI lab scientist, the very much African-American Kevin and Marcus will be transformed into two white women who could pass for Brittany and Tiffany. The agents must keep the charade up long enough to lure the kidnapper, but fooling everyone involved will be the job of their lives. Directed by Keenen Ivory Wayans, White Chicks also features James King and Lochlyn Munro. ~ Tracie Cooper, Rovi
News & Interviews for White Chicks
Critic Reviews for White Chicks
Audience Reviews for White Chicks
This is a favorite silly comedy. I don't watch a lot of them. I think part of the fascination is how wrong the "girls" look. It is funny too, though.
Nicki Marie
Super Reviewer
This awful comedy is not only derivative and obvious (more than half of it is just a rehash of Some Like It Hot) but seems made for the same sort of retards who can't see through a ridiculous disguise that only makes the Wayans brothers look like hideous caricatures.
Carlos Magalhães
Super Reviewer
A Movie that explains whats wrong with white women today, 1/2 star. 7=11=2005
Bruce Bruce
Super Reviewer
White Chicks Quotes
There are no approved quotes yet for this movie.