Whisper
(2007)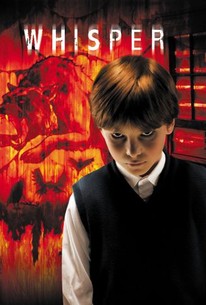 AUDIENCE SCORE
Critic Consensus: No consensus yet.
Movie Info
An ex-con looking to start life anew with his loving fiancée resorts to extreme measures as a means of funding his lifelong dream in director Stewart Hendler's dark supernatural thriller. Max Truemont (Josh Holloway) has served his debt to society, and now he is ready to make a fresh start alongside his faithful fiancée, Roxanne (Sarah Wayne Callies). When the bank takes umbrage to Max's manslaughter conviction and refuses to approve his loan application, the desperate recidivist soon joins forces with a pair of shady associates to carry out what promises to be a lucrative kidnapping. Upon abducting the eight-year-old son of the richest woman in the state, Max, Roxanne, and their criminal collaborators travel to a secluded and abandoned summer camp to await further instruction. Now, as loyalties begin to shift, suspicions arise, and the deteriorating situation appears to go into a menacing downward spiral, Max gradually begins to suspect that their young hostage may not be quite as innocent as outward appearances suggest.
News & Interviews for Whisper
Critic Reviews for Whisper
All Critics (1) | Fresh (0) | Rotten (1)
...although Whisper generally remains a cut above the majority of its straight-to-video brethren (ie it's not terrible, exactly), it's ultimately not difficult to see why the movie is forgoing a theatrical release.
Audience Reviews for Whisper
I chose this little known film for two reasons. First, for a B-Movie, the cast is terrific! Second, the best horror films are the ones with evil, sadistic, kids. What's scarier than a kid who goes around killing people. In Whisper, David is a kid of fortune, but very introverted. At his birthday party, he's kidnapped and held from ransom, but he's not really the prisoner, they are! I tried to like this movie, but honestly I didn't. The cast was excellent, but the film moves very slowly, very little actually happens, and when it does, you already knew it was coming. It wasn't an awful movie, and this cast is certainly appealing, but something just doesn't click. I'd avoid this one if I were you.
Todd Smith
Super Reviewer
My previous comment: (Rated not interested) It is a Horror enough to watch Movies children are kidnapped in the Movies. I dont want to know what would happen the next. After watching it. I was pretty much surprised how nice this Movie was made not a block buster but it wont bore you either. It has a Omen touch but at the other hand the plot was very different. It was creepy for sure but not Creepy, you shake, it was creepy you wont be bored thing. I would recommend it.
t's all a bit lame really compared to the Omen films
Roy Gutteridge
Super Reviewer
Whisper Quotes
There are no approved quotes yet for this movie.