While We're Young
(2015)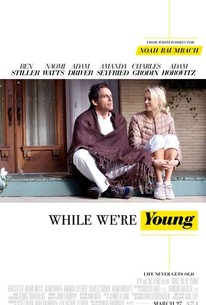 TOMATOMETER
AUDIENCE SCORE
Critic Consensus: Poignant and piercingly honest, While We're Young finds writer-director Noah Baumbach delivering some of his funniest lines through some of his most relatable characters.
Movie Info
Noah Boaumbach's comedy While We're Young stars Ben Stiller and Naomi Watts as Josh and Cornelia, a childless New York married couple in their mid-forties. As their other friends all start having children, the couple gravitates toward a young hipster couple named Jamie (Adam Driver) and Darby (Amanda Seyfried). He's an aspiring documentary filmmaker, a vocation Josh already has. Soon the older couple begins enjoying the energy they feel haging out with the younger generation, but eventually Josh begins to suspect his new best friend might not be as straightforward and trustworthy as he thought. While We're Young screened at the 2014 Toronto International Film Festival.
News & Interviews for While We're Young
Critic Reviews for While We're Young
Audience Reviews for While We're Young
Noah Baumbach is becoming an expert in this kind of quirky little movie centered on irritating characters who are seen as inexplicably adorable by the public (like Frances Ha), and even if it is funny and enjoyable, I really can't relate to most of its ideology that young people are idiots.
Carlos Magalhães
Super Reviewer
Annoyed me immensely, and when I read spoilers to see how it ended, I got even more annoyed. Amanda almost saves it, but there's other movies of hers I would rather watch. I found this insulting to both 20 somethings and 40 somethings alike. So apparently if you're a certain type of person in your 20's you are ridiculous and do stupid hipster things, and if you're over 40 and not a parent your life is pointless. This type of message just craps me to the point I couldn't finish it.
Nicki Marie
Super Reviewer
A middle-aged couple befriends a younger couple and embarks on a documentary project. Writer/director Noah Baumbach fashions a simple but affecting story contrasting youth and mortality, balanced with a rather pedestrian story about the making of a documentary. It's clear that he wants to explore the former group of themes and occasionally digress into pedantry about the nature of art in documentary films, but While We're Young's primary strength is that it avoids too much didacticism. Ben Stiller, Naomi Watts, Adam Driver, and Amanda Seyfried all give excellent performances, but it's Stiller who most clearly understands Baumbach's unique blending of character development and thematic exploration, and his performance is the most honed -- probably the result of his experience in other Baumbach films. The film's resolution (its final moments, not the genius send-up of "the great detective's reveal") is far too pat for my tastes, but that doesn't besmirch the fact that so much of what came before hit all the right notes. Overall, while not all that profound, Baumbach proves to be an excellent story-teller and fascinating artist.
Jim Hunter
Super Reviewer
While We're Young Quotes
There are no approved quotes yet for this movie.