While She Was Out
(2008)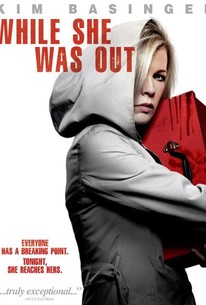 Movie Info
A suburban housewife heads out for a quick trip to the local mall, only to find herself trapped in the forest and forced to fend for herself against four murderous hooligans. Kim Basinger and Lukas Haas star in a thriller produced by Pan's Labyrinth director Guillermo del Toro and directed by Susan Montford.
Critic Reviews for While She Was Out
Audience Reviews for While She Was Out
What a piece of dog shit. This has to be the cheapest, most thrown together movie I have seen in a very long time. It's like crap sandwich week around here. If you like garbage, you're going to love this rotten movie. Della (Kim Basinger) is a housewife. It's Christmas Eve and after her asshole husband comes home, commits some domestic violence, she goes to the mall to buy wrapping paper. The kids are in bed so either the kids go to bed at six o'clock or she lives near the only mall that stays open all night on Christmas Eve. She gets harassed by a group of thugs led by Creepy Witness Amish kid Lucas Haas, leading to them murdering a rent-a-cop before her eyes. She gets chased to the trashiest sub division under construction I have ever seen. There is just shit lying around everywhere. OSHA would have a field day in this place. She takes a red metal tool box with her and it's a fight for her life, though most of the film ends up in the woods. Blah, blah, blah. I'm just going to list the problems with this movie. Just a list of shit I noticed while viewing it. 1) This is the most ethnically diverse gang I've ever seen. You have the Hispanic guy, the Asian guy, the Black guy, and the Amish Kid. Does Affirmative Action count for street toughs? 2) The fact that said group of thugs are more like The Three Stooges than The Warriors. There is one scene where one of them falls and rolls like a damn bowling ball into the others that follow. I shit you not. We also can't forget that wonderful scene where one of them says "Let's split up." and they all go into the same fucking house! And who can forget how the first thug bites the bullet in this thing. 3) In the woods, why does Della keep following the flashlight? Wouldn't you go the other damn way? How many times does she have to stop and eavesdrop on what's going on? She's not Rambo or MacGyver. Run the other damn direction Vicki Vale. 4) Dead cell phone battery=cheap screenplay ploy on eliminating technology that would have ended most thrillers made before 1995 in 20 minutes. 5) Finally, I'm going to talk about the damn tool box. That red metal toolbox she feels the need to cart around with her throughout the film. Now I own two tool boxes just like Della's. I'm here to tell you that they are the loudest fucking things on the planet, especially when someone is trying to kill you. You look at them funny and they make banging noises from the tools inside. I challenge anyone to go for a run through the woods with one of these sons of bitches and try to hide from some sadistic guys wanting your head on a pole. It can't be done.And there can't be many tools in it either because she flings it around like it's her purse. Add in the crap acting, direction, and everything else you get a waste of 90 minutes. It's a good movie to make comments during, but other than that it's shit. Dog shit.
Chris Garman
Super Reviewer
½
This was kind of dumb. Kim Basinger is fine as a downtrodden housewife who gets attacked on Christmas eve and has to run for life against four thugs. It runs out of steam about halfway through and becomes a bit boring - which probably isn't great for a thriller! I had the most problem with the stupid ending. All through it you get the impression she is determined to survive so she can get home to her kids, which is fine, then it's implied that she does something that can guarantee she won't be seeing those kids for quite some time. I mean for goodness sake, the husbands a pig, we get it... why didn't they just have her leave him with her new found strength?!
Nicki Marie
Super Reviewer
½
I...hated...this...movie. Had a great premise, but then it decided to have the characters all act like unbelievable retards. Seriously, Kim Basinger's character was so ridiculously stupid, that about halfway through the movie I just wanted the bad guys to win and kill her. If anyone deserved it, she did for being so stupid. It's like she wanted to be caught the whole time. Not only that, I like how the moron bad guys all of the sudden gain Aragorn worthy tracking skills, and how they always seemed to go the direction she did in a huge forest (even before she started doing genius stuff like screaming to God in the middle of the stream..and then peeing?) BOOOOOOO.
Curtis Lilly
Super Reviewer
While She Was Out Quotes
There are no approved quotes yet for this movie.