Where's Poppa?
(1970)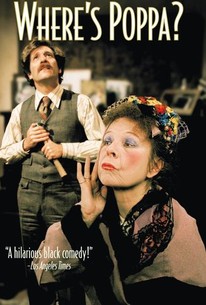 Movie Info
Director Carl Reiner, most closely associated with the homey values of situation comedies, shocked, surprised, and (in some cases) delighted his admirers with the jet-black comedy Where's Poppa?. George Segal plays Gordon Hocheiser, a New York attorney whose love life is constantly being sabotaged by his senile mother (Ruth Gordon), who constantly asks the question of the title. (She doesn't realize Poppa is dead). Every time Gordon has a prospective bride or lover lined up, Mrs. Hocheiser gums up the works with her insane behavior. The attorney at last finds a kindred spirit in the beautiful caregiver Louise Callan (Trish VanDevere), who has likewise been a victim of someone else's eccentricities (her first husband used the conjugal bed as his own personal toilet). When Mrs. Hocheiser chases Louise away like she has all the others, Gordon begins entertaining notions of killing his mother. In desperation, Gordon begs his brother Sidney (Ron Leibman) to take his mother off his hands, which leads to several comic vignettes in deliriously bad taste. The film's incest-themed original ending (trimmed from the video version but still included in cable prints) finds Gordon climbing into bed with Mrs. Hocheiser, only to be greeted with a "Here's Poppa." The celebrated "tush scene," wherein Mrs. Hocheiser bites Gordon on his bare backside while Louise looks on in horror, packed a real wallop back in the early '70s, as did a courtroom scene involving a disgruntled hippie (Rob Reiner) and a psychotic U.S. general who graphically describes his homicidal acts against the Vietnamese. Though Carl Reiner would continue to "push the envelope" in his later films (Steve Martin as a "poor black child"? George Burns as God?) he would never again attempt anything as risky as Where's Poppa?.
Critic Reviews for Where's Poppa?
Audience Reviews for Where's Poppa?
½
An insane black comedy that pushed the envelope even in 1970. It's really hilarious, but a bit shocking at the same time. Gordon and Segal are great actors and both give fantastic performances. I really liked this crazy movie.
½
A deranged comedy, with some deranged characters, that will have you laughing at it's deranged stupidity. "Gordon, as the widowed mother, is in senile dementia constantly asking "Where's Poppa?" and scaring off nurses and Segal's girlfriends with her bawdy eccentricities. In her mental lapses she can't remember her son is a grown man, and when he brings home Trish Van Devere the mother suddenly describes the size of her son's sex organs as if he were a child. Van Devere as a prospective nurse looks like the Angel of Mercy with her sweet pure face framed in a white cap, but she is also a little insane." This movie is hilarious. Not laugh out loud humor, and not raunchy like today's comedies, but still fu**ing funny as hell. Where's Poppa? is an intelligent, smart, dark and twisted little comedy. There's some pretty messed up shit in this movie and some hysterical, over the top, classic one liners, such as... "He's got a pecker this big." "And I want you to know that if you mess this one up for me, I'm gonna punch your fuckin' heart out." "He made a caca on the bed." You'll know exactly what I'm talking about when you see this movie. Funny shit! Well acted, smart, funny, and Highly recommended!
jd cryptic
Super Reviewer
For those who like their comedies sick and twisted.
Anthony Valletta
Super Reviewer
Where's Poppa? Quotes
There are no approved quotes yet for this movie.