When Will I Be Loved
(2004)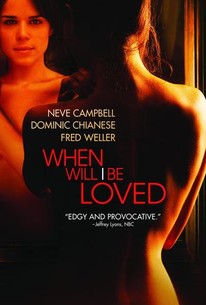 When Will I Be Loved Photos
Movie Info
Directed by James Toback, the erotic drama When Will I Be Loved? revolves around Vera, the debutante girlfriend (Neve Campbell) of a fast-talking hustler (Frederick Weller) who is on the verge of making millions through a big-money gambling venture. Feeling undervalued, Vera explores her sexuality through whatever means she can think of, including explicit discussions with a potential employer, picking up random men, and videotaping steamy trysts with her female lover. When Ford (Weller) proposes that Vera spend the night with Italian media mogul Count Tommaso (Dominic Chianese), who is willing to put up 100,000 dollars for the occasion, Vera concocts a scheme to show both men what her true worth really is.
Critic Reviews for When Will I Be Loved
Audience Reviews for When Will I Be Loved
½
Neve Campbell plays a sexy woman in the city who tried of being neglected by her boyfriend (Frederick Weller from Plain Sight). He's always scheming on new ways to make money. He's also a cheating low life. Campbell's character cheats too but I didn't really blame her and I had no idea why she was even with him. The movie spends the first half of the movie showing that they live two totally different lives. Classical music is played when she is shown and rap is played when he is shown. It does work at first but then it switches back and forth between them for a whole half hour of rap and classical music being switched back and forth..... So, that was a bit annoying. We get it, they live two totally different lives. While Fred Weller was just annoying which made me glad she wanted to double cross his character. He deserved it, he was a jerk. I don't know why Roger Ebert gave the movie for stars but he was the only person. I guess he was thinking with his hormones since Campbell is shown nude in the shower for the first 3 minutes. She is sexy and should be in more movies but she is way above this movie. She is at least the only good thing about it. No, not because they show her naked, well not only anyway lol. She also gives a good performance.
½
Interesting film, Neve Campbell puts on a great performance in this enigmatic independent film.
Chosen 718
Super Reviewer
Compelling and pretensious, but Neve Campbell gives one of her best performances.
Edward Boxler
Super Reviewer
When Will I Be Loved Quotes
There are no approved quotes yet for this movie.