When a Stranger Calls
(2006)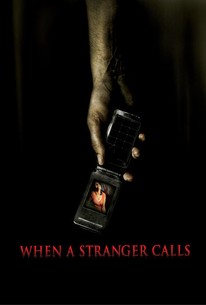 TOMATOMETER
AUDIENCE SCORE
Critic Consensus: When a Stranger Calls ranks among the more misguided remakes in horror history, offering little more than a rote, largely fright-free update to the original.
When a Stranger Calls Photos
Movie Info
While babysitting, a high school student is terrorized by a stranger who calls her, asking "have you checked the children lately?" The police eventually notify her, the calls are coming from inside the house.
News & Interviews for When a Stranger Calls
Critic Reviews for When a Stranger Calls
Audience Reviews for When a Stranger Calls
No plot, no scares. You might as well just fast-forward to the last ten minutes; everything before is utterly pointless. Not saying that the ending is anything special. None of the tension in this film is real. It's just fake scare after fake scare, and it gets old real fast.
Eric Shankle
Super Reviewer
When a Stranger Calls is one of the worst remakes that I have seen. The film has some very bad acting, a bad story and bad directing. As a horror film, When a Stranger Calls fails to deliver effective jolts. The scares are cheap and expected. I thought that this film was awful and I felt like it was a waste of time. This film is pure crap, and as far as remakes are concerned, them being dull and inspired compared to the first, well this one fits the description perfectly. I love horror films, horror films are my passion, my addiction and I was very disappointed in this film. I thought it was purely a waste of time, and celluloid. Remakes are much hit and miss, and this remake misses the mark entirely. The cast and story awful, and you just know how this film will end. The element of surprise, which makes horror films worth seeing, is absent, and thus, this film is very predictable and awful. This film scraps the bottom of the barrel and it's not fun, scary or entertaining. This is yet another unfortunate remake of a classic film that never should have been made in the first place. Hollywood is running out of ideas, and trash like this shows that they're willing to green light anything to make a quick buck. Some remakes are good, effective at delivering scares. However this one fails to deliver, and belongs along with the rest of the horrible sequels in the dollar bin at Wal-Mart. A terrible film, which you're not missing out on. Avoid.
Great horror flick that makes you scared to ever answer a phone ever again. I was terrified after the movie when my dad called the house to scare us. If you want to be completely freaked out then watch this movie.
Cassie Hill
Super Reviewer
When a Stranger Calls Quotes
There are no approved quotes yet for this movie.